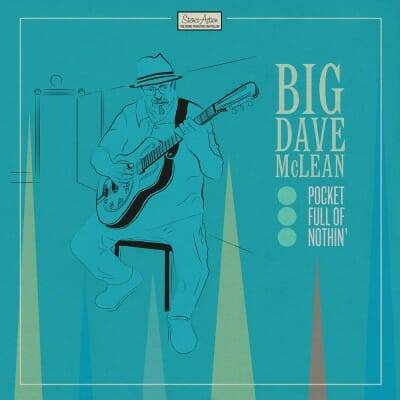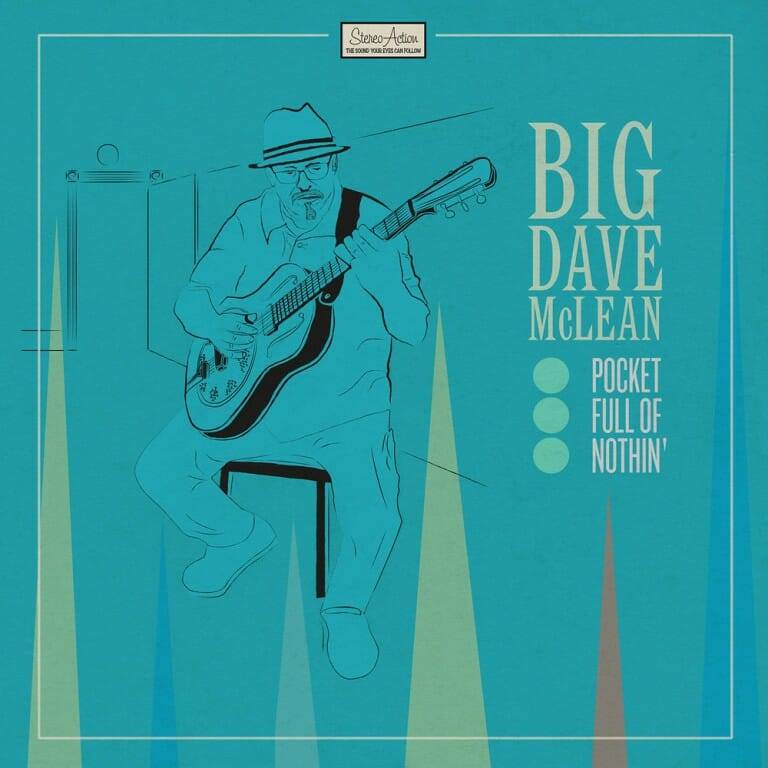 Big Dave McLean
Pocket Full Of Nothin'
Black Hen Music
Big Dave McLean has been active on the Canadian blues scene since releasing his 1989 debut recording "Muddy Waters for President". In 1992 Mclean was a Juno Award winner; the Juno Awards are Canada's equivalent to our Grammys. The veteran bluesman has been an influence on many of his fellow musicians including Colin James. He signed with Stony Plain Records in 1998 and during the years with them recorded three albums including "Blues from the Middle", with guests Sue Foley and Duke Robillard, which won a 2004 Western Canadian Music Award as most "Outstanding Blues Recording".
In 2014 McLean signed with Steve Dawson's Black Hen Music. His last album was 2016's "Better The Devil You Know". For his third album with the label McLean, various guitars, harmonica and vocals; is joined by producer/guitarist/vocalist Dawson; pianist Chris Gestrin, and the rhythm section of bassist Jeremy Holmes and drummer Gary Craig. McLean states it was a thrill when Dawson brought in the horn section of Jerry Cook, baritone sax; Dominic Conway, tenor sax; and Malcolm Aiken, trumpet. The album was recorded at The Warehouse Studio in Vancouver.
Born in Saskatchewan, the prairie native McLean adds "I don't usually stand on my own material. I've been happy to record my arrangements of other people's songs; you know trying to bring something of a new perspective to them. Steve asked if I had written anything new since we last got together, so I sent him a bunch of songs and much to my surprise, he really liked almost all of them, so we ended up with nine originals on this record, which is the most I've ever recorded at one time."
Opening with "Songs of the Blues" McLean references the song "Atlanta Moan" written by Robert Hicks a.k.a. as Barbecue Bob and first recorded in 1931. "Now it's been a long time since I first heard the Atlanta Moan, or Robert Johnson singing about his Mississippi Delta home, with a passion deep inside, emotion that you just can't hide, these are the songs of the blues and they keep you feelin' satisfied…they are the songs of the blues and have a soul that will never die". McLean's gruff but relaxed voice speaks what we hold to be the truth. The production is completed by McLean's guitar, the horns and Dawson's slide.
"Don't Be Layin' That Stuff On Me" includes the lyric "I may have been born in Natchez but it wasn't just yesterday…stop your screaming out for justice, when all you do is break all the rules". "Backwards Fool" features McLean on a National steel guitar and harmonica as he humorously sings "there's nothing this boy can do he's got the backwards blues"; Gestrin's piano and Aiken's trumpet solo highlight the production. "All Day Party" features a retro horn arrangement with a tenor solo from Conway and more fabulous piano. On "You've Been Told" McLean gives some advice to a member of the younger generation. The folksy "Manitoba Mud" sports the lyric "my red flyer wagon got a busted wheel, stuck in the mud in Manitoba". The closer is "the one thing you can count on There Will Always Be A Change". These are well written songs from McLean and an insight into what fills his soul.
Selected covers include "Voodoo Music" credited to J.B. Lenoir and Willie Dixon and recorded by Lenoir in 1970. On each of his album's McLean includes at least one Muddy Waters' song and this time it's "Just To Be With You" recorded by Waters in 1971. The third and final cover is Gregg Allman's "Midnight Rider".
With repeated listening the artistry of Big Dave McLean just grows on you. He is a fabulous talent.
Richard Ludmerer