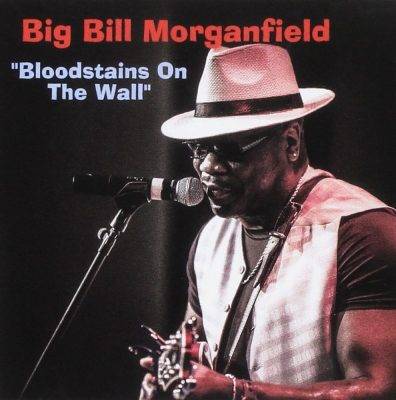 Big Bill Morganfield
Bloodstains on the Wall
Black Shuck Records
In 1999 Big Bill Morganfield, the youngest son of the late McKinley Morganfield a.k.a. Muddy Waters, released his first authorized studio recording. It was the result of a fifteen year odyssey of self discovery. On "Rising Son" Morganfield surrounded himself with personnel who had played with his father including producer and guitarist Bob Margolin; drummer Willie "Big Eyes" Smith, pianist Pinetop Perkins and harmonica player Paul Oscher. Muddy would have been proud. With his father's sound and a youthful exuberance all his own that album earned Morganfield a 2000 Blues Music Award for Best New Artist Debut. Two more albums on Blind Pig Records were to follow. In 2009 Morganfield released "Born Lover", on the Vizztone Label Group, co-produced by Margolin and Brian Bisesi.
"Bloodstains On The Wall" is Morganfield's seventh recording overall and first since 2013's "Blues With A Mood" also on his Black Shuck Records label. Morganfield gives us eight great covers and four new originals. All of the vocals are by Morganfield who also plays guitar on all but two tracks.
"Lost Without Love" is from Cornelius Green a.k.a. Lonesome Sundown. It was released in 1956 as a single on Excello Records. Vocalist Morganfield is joined on guitar by special guests Colin Linden, and Eddie Taylor Jr. Morganfield's voice is deep and robust like his dad's.
"Too Much" was written by Oscar Boyd and recorded by Jimmy Reed in 1964.  Morganfield, Linden and Taylor are on guitar while Doc Malone is on harp. The rhythm section is Mookie Brill, bass; and Chuck Cotton, drums. 
 "Bloodstains on The Wall" written by Frank "Honeyboy" Patt and originally recorded with Gus Jenkins in 1954 features Linden and Taylor, guitars; Malone, harp; Jim Horn, sax; Augie Meyers, piano; Brill, bass; and Cotton, drums.
"Help The Bear" written by Jimmy McCracklin, first appeared on McCracklin's 1994 "A Taste of The Blues" on the Bullseye Record label.
"Can't Call Her Name" is the first of four originals. It's a shuffle featuring Morganfield, Linden and Taylor, guitars; Malone on harp, and Cotton, on drums.
"I Don't Know Why" and "I Am The Blues" where both written by Willie Dixon. The former was recorded by Muddy Waters in 1954. The band includes Margolin, guitar; Steve Guyger, harp; Mooke Brill, bass; and Cotton, drums. The latter was the title track from Dixon's 1970 Columbia Records album and Morganfield is backed by the Mofo Party Band.
The Mofo Party Band were formed in 1989 by John Clifton, harp; and Bill Clifton, guitar; they are rounded out by Grant Clifton, bass; and Brian Bischel, drums. They also appear on Morganfield's outstanding version of Otis Rush's "Keep On Loving Me" first released on Cobra Records in February 1959; and again on "Wake Up Baby" written by Andy Morris, Lisa Jane Stansfield, and Ian Owen Devaney; and which first appeared on Stansfield's 1989 recording. Bartok Szopinski sits in on the Hammond B-3.
Morganfield gives us two more originals recorded with The Mofo Party Band. On "Help Someone" and "When You Lose Someone You Love" Szopinski sits in on piano.  Morganfield states that the latter is modeled after one of his dad's songs. In the liner notes Morganfield gives special thanks to both his mother and grandmother; both of whom have passed. This is an emotional performance and my favorite track on the album.
The last of Morganfield's originals "Hold Me Baby" was produced by Courtney Smith, a Texas rapper, who performs under the name C-Note. The song features Morganfield's slide and electronically tweaked beats. This hip-hop production will be used on Fox TV's upcoming ten hour drama series "Shots Fired" premiering on March 22nd. Morganfield will sing and make his acting debut in episodes three and four.
Our Blues is a family. Morganfield is one of our favorite sons.
Richard Ludmerer
Products from Amazon.com
‹
›