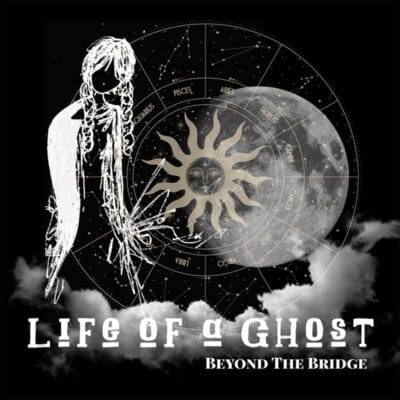 Cassie and Mallory
Life of a Ghost
"Cassie and Mallory" are the two artists Cassie Spires and Mallory Tober who got together in 2019 to make music. Cassie takes on the part of the vocals and lyrics and is accompanied instrumentally by Mallory.
Both have very different life stories. Cassie was a successful wedding photographer who decided in 2017 to teach herself to play the guitar and is still very successful today producing podcasts. She also discovered the love for electronic music during the pandemic.
Mallory started studying music as a child, traveled a lot, lived in the Philippines, moved to Kentucky in 2016 to pursue her interest in medicine. She plans to be a child neurologist and will continue to make music with Cassie and write her own songs.
They just released their album "Life of a Ghost", a wonderful album that shows the full range of both artists.
Eight songs to dream, reflect and enjoy with great lyrics like in the first song "Ghost", which immediately captivates you. Followed by "Underneath The Same Moon", sung and played thoughtfully and wonderfully.
"Broken Promises and Rainbows", a ballad that couldn't be more beautiful with meaningful lyrics and a fabulous melody.
"Truth, Love and Beauty"is truly beautiful, with a touch of country style and an almost minimalist appearance, this song is proof that music doesn't have to be overloaded to sound great.
This is just a small selection of the great music and I recommend you both the new album and all the other songs that "Cassie and Mallory" have produced so far.
Both say: "Our music is about healing- for ourselves and for others. We believe that everyone is an artist and we are passionate about creating a community that is focused on making the world a more beautiful place ".  And the two artists convey the feeling of "healing" perfectly with their music! Songs and media are self-produced and both found their creative freedom and autonomy in doing without producers.
"Life of a Ghost" is an album that you can listen to in any situation, that cheers you up or makes you think, depending on what you need … and the world needs more of this music, I am firmly convinced of that!
Help Support Making a Scene
Your Support helps us pay for our server and allows us to continue to bring you the best coverage for the Indie Artists and the fans that Love them!
Make a one-time donation
Make a monthly donation
Make a yearly donation
Choose an amount
Or enter a custom amount
$
---
Your contribution is appreciated.
Your contribution is appreciated.
Your contribution is appreciated.
Donate
Donate monthly
Donate yearly
You can donate directly through Paypal!
Subscribe to Our Newsletter
Find our Podcasts on these outlets