An Exclusive Interview with Betsie Brown about the IBC and Blind Raccoon Showcase! by Richard Lhommedieu on Mixcloud
We talk with Betsie Brown of Blind Raccoon about this years Blind Raccoon Showcase that will be held at the International Blues Challenge the end of January. We also have the rare opportunity to talk to Betsie about the IBC and how it has evolved over the years as a showcase for New Independent Blues Talent (INDIE B). This is a very insightful interview and not one to miss .. we also have a sampling of the music you can expect to hear at the showcase after the interview!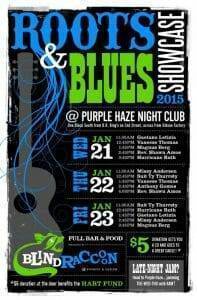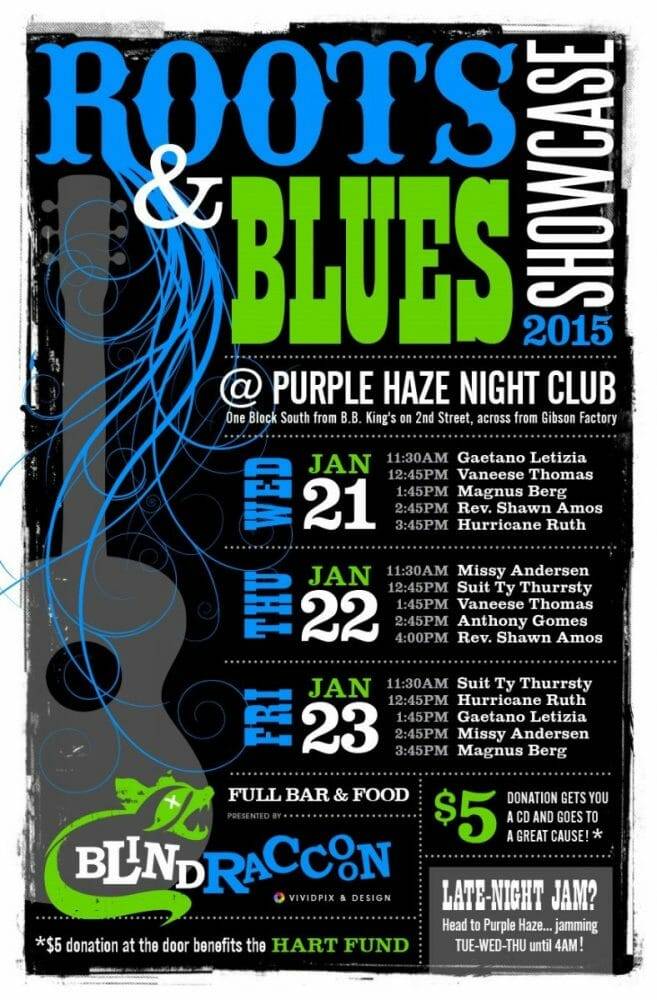 Blind Raccoon Showcases Roots & Blues Artists
Blind Raccoon is delighted to announce the line-up for their showcases happening during the International Blues Challenge in Memphis, TN. On January 21, 22 and 23, from 11:30am to 5pm, artists from Norway, Canada, California, Ohio, Illinois, Connecticut, and New York, a smorgasbord of roots and blues talent, will grace the stage. We have two 2015 Blues Music Award nominees – Vaneese Thomas & Missy Andersen, one 2015 IBC participant – Gaetano Letizia and the Underworld Blues Band – as well as several former IBC contestants performing over the three days. Net proceeds from the showcases will benefit The Blues Foundation's HART Fund, which provides assistance to blues musicians and their families in times of great financial need due to medical emergencies. Emcees are Peter "Blewzzman" Lauro of Mary4Music.com on Wednesday, Brett Fleming, host of Soul Stew, WEVL/Memphis, on Thursday, and Richard L'Hommedieu, producer of Live At The Midnight Circus and publisher of Making A Scene, on Friday. Blind Raccoon is a music marketing firm out of Memphis dedicated to spreading their artists' music around the globe.
Performers
Gaetano Letizia and the Underworld Blues Band
2015 IBC participant
Based in OH
www.underworldblues.com
Vaneese Thomas
2015 BMA Nominee "Soul Blues Album" (Blues For My Father) & "Soul Blues Female Artist"
Based in NY, from Memphis
www.vaneesethomas.com
Magnus Berg
Based in Norway
www.magnusbergmusic.com
The Reverend Shawn Amos
Based in CA
www.shawnamos.com
Hurricane Ruth
Former IBC participant
Based in IL
www.hurricaneruth.com
Missy Andersen
2015 BMA Nominee "Soul Blues Female Artist"
Missy Andersen was due to participate in this year's IBC, but as she was nominated for a BMA, was eliminated from the competition.
Based in CA
www.missyandersen.com
Suit Ty Thurrsty
Based in CT
www.suittythurrsty.com
Anthony Gomes
Based in MO, from Canada
www.anthonygomes.com
Early 2015 will see the release of Electric Field Holler, a guitar driven blues infused rock 'n' roll album that showcases Gomes' blistering six string work and whiskey soaked voice.
Schedule

Wednesday, January 21, 2015
11:30am – Gaetano Letizia and the Underworld Blues Band – I hour set
12:45pm – Vaneese Thomas – 45 minute set
1:45pm – Magnus Berg – 45 minute set
2:45pm – The Reverend Shawn Amos – 45 minute set
3:45pm – Hurricane Ruth – I hour set
Thursday, January 22, 2015
11:30am – Missy Andersen – I hour set
12:45pm – Suit Ty Thurrsty – 45 minute set
1:45pm – Vaneese Thomas – 45 minute set
2:45pm – Anthony Gomes – I hour set
4pm The Reverend Shawn Amos – 45 minute set
Friday, January 23, 2015
11:30am – Suit Ty Thurrsty – I hour set
12:45pm – Hurricane Ruth – 45 minute set
1:45pm – Gaetano Letizia and the Underworld Blues Band – 45 minute set
2:45pm – Missy Andersen – 45 minute set
3:45pm – Magnus Berg – I hour set