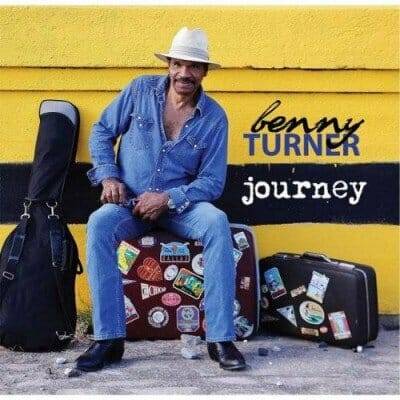 Benny Turner
Journey
Nola Blue
Benny Turner and his older brother Freddie grew up in Gilmer, Texas where they were exposed to country blues and the music of T-Bone Walker. Once the family moved to Chicago's West Side his brother began to make a name for himself as Freddie King. While Freddie became a guitar god Turner backed him up on bass. Turner left Freddie to play with R & B singer Dee Clark and with the gospel group the Soul Stirrers. He re-joined Freddie and played bass with him until his untimely passing in 1976.
After Freddie died Turner spent eight years with Mighty Joe Young. Turner then settled in New Orleans and for the next twenty years gigged with Marva Wright, the Blues Queen of New Orleans; until her passing in 2010.
That same year Turner released his first album "Blue and Not So Blue". On it Turner honored his late brother by not including any lead guitarists. Solely concentrating on his singing and songwriting the album included guest artists Dr. John, Charles Brown, Davell Crawford and Marva Wright. In 2012 Turner's follow-up recording was a "Tribute to My Brother Freddie King".
"Journey" is only Turner's third album. Once again Turner does all the lead singing and plays bass and guitar. Jeffrey "Jellybean" Alexander plays drums on all of the tracks. Turner utilizes three excellent rhythm guitarists; Marc Stone, Charles Moore, and Derwin "Big D" Perkins. Keiko Komaki plays keyboards. The horn section includes Jason Mingledorff, sax; and Barney Floyd, trumpet. The background vocalists are Deanna Bernard and Ellen Smith.
The opening track "Breakin' News" includes everyone but Perkins. It is the first of ten great new originals from Turner. On, "Don't You Ride My Mule", Turner sings "if you sneak into my barnyard, leave my Mule alone". Guesting are Josh Paxton, keyboards; Mark Leuron, trumpet; and "Sunpie" Barnes, harmonica.
"I Wanna Make It Right" features all of the above except that it's Perkins on rhythm guitar. I am impressed with Turner's songwriting.
"My Mother's Blues" is a guitar instrumental in the Piedmont tradition. Turner is inspired by a melody that his mom used to play. Tom Worrell sits in on the keys.
"I Wanna' Give It to You Baby" again features "Sunpie" a mainstay of the New Orleans harmonica and Zydeco scene. It doesn't take much to identify with this one. "My Uncle's Blues" draws on Turner's reverence for his uncle Leon King.
The album closes with a song that is a bit more topical. "What's Wrong with the World Today" is a reflection on life; this time "Sunpie" is part of the background chorus.
Since first listening to this album I have become a fan of Turner. It's time for our sidemen to step out front and he does us justice. I love Benny Turner.
Richard Ludmerer