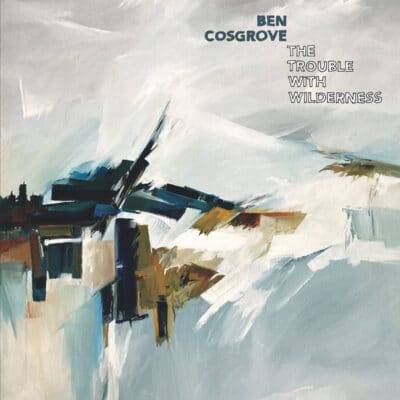 Ben Cosgrove
The Trouble with Wilderness
Self-released
Ben Cosgrove is a traveling composer, pianist, and multi-instrumentalist from New England. He travels constantly all over the country, performing a unique variety of original instrumental music that explores themes of landscape, geography, and environment while straddling a line between folk and classical music. He has delivered several albums in this vein and is also a highly recognized writer. His career has included artist residencies and collaborations with Acadia and Isle Royale National Parks, White Mountain National Forest, the Schmidt Ocean Institute, the Sitka Center for Art and Ecology, Chulengo Expeditions, and the New England National Scenic Trail, as well as solo performances in 48 states (missing only Delaware and Hawaii).
The Trouble with Wilderness is a lush, textured, and expansive set of twelve new songs that consider the role of nature and wildness in the built environment as opposed to his more customary natural one. Yet, just as he was about to begin the project, the pandemic hit and the nomadic Cosgrove, like everyone else, was forced to look at things differently. Instead of driving to remote locations, he spent days walking all over the outskirts of town for months, fascinated at details he observed.
Cosgrove is the sole musicians here playing grand and upright pianos, Rhodes, Wurlitzer, accordion, various synths, acoustic and electric guitars, upright bass, banjo, drums, and various percussion. It's the acoustic piano that serves at the lead instrument on all tracks with the others providing more subtle effects. The new songs illuminate Cosgrove's unique position as a musician suspended somewhere between genres. Like a singer-songwriter who doesn't sing, he often seems more in a folk mode than as a trained classical pianist. That's also due the fact that in addition to his solo instrumental work, Cosgrove regularly tours, records, and collaborates with artists from across the worlds of folk, rock, and Americana music, and while some parts of the album recall the work of George Winston, Keith Jarrett, Nils Frahm, or Ludovico Einaudi, his extensive experiences working with bands like The Ghost of Paul Revere are reflected in some of the work's impassioned and percussive moments.
Cosgrove is trying to blur the lines between the built and so-called natural environments. The songs, faithful to this concept, are characterized by their textural contrasts and striking juxtapositions: ethereal effects above a churning and insistent piano pattern in lead single "The Machine in the Garden"; tapped and plucked noises from all over the inside of a piano snapping wildly over a graceful bassline in "Cairn"; or in the final track, the delirious, ecstatic arpeggios that slowly burst free of their constraints over the course of its ten minutes.
The production by indie-folk favorite Dan Cardinal (Josh Ritter, Darlingside, Lula Wiles, Session Americana, The Ballroom Thieves) both emphasizes the physicality of the instruments involved and elevates the sounds to places that are uncannily gorgeous and sometimes almost surreal: on songs like "Oklahoma Wind Speed Measurement Club" and "Wilder," Cosgrove says, "It's meant to sound mechanical, organic and ethereal all at once," Cosgrove recently said, "and I think a piano is just the perfect instrument for getting at those three moods."
You may want to put this music on in your portable device with headphones. Cosgrove designed it as he says in his concluding message in the liners, "There's wildness to be found everywhere even in the most constructed and artificial environments, there is always something beautiful, chaotic, and anarchic at work, doing its part to rattle the edges, to crack the sides, to burst forth and bloom."
Even if you've shunned the new age piano albums from George Winston or the solo efforts of Keith Jarrett and others, you might try this one. This writer finds it soothing, evocative, and inspired.
Help Support Making a Scene
Your Support helps us pay for our server and allows us to continue to bring you the best coverage for the Indie Artists and the fans that Love them!
Make a one-time donation
Make a monthly donation
Make a yearly donation
Choose an amount
Or enter a custom amount
$
---
Your contribution is appreciated.
Your contribution is appreciated.
Your contribution is appreciated.
Donate
Donate monthly
Donate yearly
You can donate directly through Paypal!
Subscribe to Our Newsletter
Find our Podcasts on these outlets