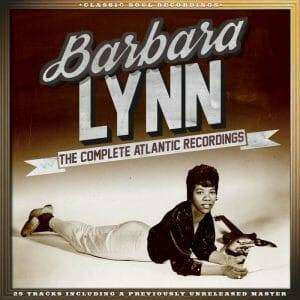 Barbara Lynn "The Complete Atlantic Recordings" www.RealGoneMusic.com
Barbara Lynn Ozen has been rightfully referred to as the first lady of Texas soul and blues, and had her hit songs covered by Aretha Franklin, the Rolling Stones, and Otis Redding. She's a gifted vocalist, a solid (southpaw) guitarist, an excellent songwriter and is also a dynamic live performer. Early successes came by way of Huey P. Meaux (aka the Crazy Cajun) who insightfully recorded her at the legendary New Orleans recording studio that Rock and Roll Hall of Famer Cosimo Matassa engineered. These tracks found their way onto the Jamie label. While Lynn scored most of her hits when she was signed to Jamie Records in the mid-'60s, she also waxed some of her best material after inking with Atlantic Records in 1967. Several of these Atlantic sides: "This Is the Thanks I Get," and "I'll Suffer," also landed on the Rhythm and Blues Billboard charts.
To be precise: this albums opening song "This Is The Thanks I Get" was released as a single and catapulted to #39 on the R&B charts. There are also some well-chosen covers like an exceptional rendition of Dan Penn's and Spooner Oldham's "He Ain't Gonna Do Right," plus several songs written by Cliff Thomas, Bob McRee and Ed Thomas. Yet most of the best tracks are those authored by Lynn. "You'll Lose A Good Thing" was a huge '62 hit for Lynn, but the version on this disc was rerecorded for her one and only LP for Atlantic. The collection's only previously unreleased track is a cover of "Soul Deep," a significant tune that was a hit for then popular The Box Tops in 1969. Barbara Lynn's "You Make Me So Hot" is infectiously funky and features tight and sharp horn arrangements; it was released as an Atlantic single in 1973. Lynn later recorded a lengthier version of "You Make Me So Hot" in 2004 on a Dialtone Records label album titled "Blues & Soul Situation." The soul-funk dance grooves on "Mix It Up Baby," "You Better Quit It," and "I'm a One Man Woman" also still sound contemporary, captivating and are dance friendly. There are a couple of old-school soul nuggets "(Daddy Hot Stuff) You're Too Hot to Hold," and the upbeat and catchy closer "It Ain't Good To Be Too Good," both authored by Lynn.
Barbara Lynn's "The Complete Atlantic Recordings" is part of the Real Gone (Classic Soul Recordings series) and compiles all of her twenty-four sides that Lynn recorded for Atlantic Records between 1967 and 1972. "The Complete Atlantic Recordings" displays Barbara Lynn' triple-threat attributes (vocals, songwriting and guitar) and is suggested (and perhaps required) listening for any and all fans of classic-retro Southern soul and funk. Also appreciated are David Nathan's liners and Real Gone Music's well thought out detailed track listings with Billboard's charting numbers and release year(s.) Lastly I had the good fortune to see Lynn perform around 2010 in New Orleans. I am happy to report that she still packs a mighty wallop. Her band was intense and skintight and brought the enthusiastic crowd to their feet with frenzied nonstop dancing throughout the evening. The audience (and yours truly) thoroughly enjoyed the musicianship and the bands genuine upbeat and magnetic party groove especially with the atmosphere that they so naturally crafted. That being said if you can see her perform live do so now. As there is not a truer soul personality belting it out the way Barbara Lynn does as she continues to share her unique and soulful panache.
For fifteen years Bob Putignano has been pivotal at WFDU with his Sounds of Blue radio show (Mon. & Wed. 9am-1pm) www.SoundsofBlue.com – Previously a senior contributing editor at Blues Revue, Blueswax, and Goldmine magazines, currently the Music Editor for the Yonkers Tribune www.YonkersTribune.com – www.MakingAScene.org & www.wfdu.fm/Whats-Happening/Bob's Music Reviews/bobs music reviews/ Bob was the 2003 recipient of the "Keeping the Blues Alive" award (given by the Blues Foundation in Memphis) for his achievements in radio broadcasting.
Putignano can be contacted at: bob8003@yahoo.com
Bob Putignano: www.SoundsofBlue.com Wed. & Fri. 9am-1pm: https://WFDU.fm Now celebrating 15 + years on the air in the NYC area Music Editor: www.yonkerstribune.com, www.makingascene.org & wfdu.fm/Whats-Happening/Bob's Music Reviews/bobs music reviews/