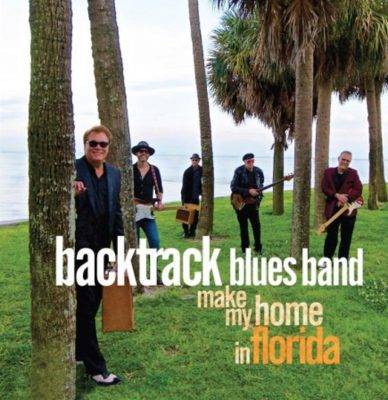 Backtrack Blues Band
Make My Home in Florida
Harpo Records
Harp ace Sonny Charles met guitarist "Little" Johnny Walter in Chapel Hill, North Carolina while they were both attending the University of North Carolina. Charles founded the Backtrack Blues Band in 1980 and Walter was among the first to join.
The Backtrack Blues Band is a Chicago styled band inspired by Little Walter and Sonny Boy Williamson II. In fact the band was named after the Little Walter instrumental "Backtrack". Other influences include guitarists T-Bone Walker, B.B. King and Albert King. Their debut recording was 1983's "Dress It Up" on True Tone Records. The band followed up with 1989's "Killin' Time" on Ichiban Records and 1995's "Boogie Shack" on Kingsnake Records.
After a hiatus The Backtrack Blues Band resumed recording in 2012 when they released "Captured Alive". Their last album was 2016's "Way Back Home". The band has won three Tampa Bay Music Awards for "Best Blues Band" and has performed with Stevie Ray Vaughan, B.B. King, John Lee Hooker and many other notable bluesmen. The band performs both traditional blues classics and contemporary originals.
"Make My Home in Florida" is a live cd/dvd recorded at The Palladium Theater in St. Petersburg, Florida on January 6th, 2017. The current band lineup includes Charles, lead vocals and harmonica; original member Walter, rhythm guitar and background vocals; Kid Royal, a transplanted Canadian, lead guitar and vocals; the Grammy award winning Jeff "Stick" Davis a founding member of The Amazing Rhythm Aces, bass; and Joe Bencomo, drums.
The song selection includes "Nobody But You" recorded by Little Walter in 1957 and two songs from Sonny Boy Williamson II; "Your Funeral and My Trial" written and first recorded in 1958 and "Checkin' On My Baby" from 1960. On the latter Walter lays down the rhythm while Charles sings before taking his harp solo. Lead guitarist Royal follows with one of his own.
Royal sings lead on "Woke Up This Morning(My Baby Was Gone)" recorded by B.B. King in 1953; interestingly it was written after King's wife of six years up and left him. Royal sings again on the "T-Bone Shuffle" recorded by T-Bone Walker in 1959.
Charles has written four songs including the fabulous title track "Make My Home in Florida". Charles who now makes Tampa his home has a second home on St. John in the Caribbean. "Shoot My Rooster" is about wanting to silence a rooster who crows too loudly each morning at sunrise.
This album gives the viewer not only a chance to listen but also an opportunity to see this fine quintet in action. This is recommended for those who love Chicago styled blues.
Richard Ludmerer
[amazon_link asins='B0787CML1R,B01JKMT1PI,B007Y56VPM,B007XCK0VW,B073STC3G2′ template='ProductCarousel' store='maasc-20′ marketplace='US' link_id='4984c914-ff8d-11e7-b9ac-253b6c92a9f6′]