B.B. King "The Life of Riley" DVD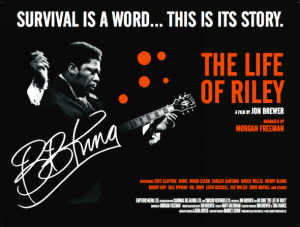 "The Life of Riley" is a very appropriate documentary about the monumental life of B.B. King. Riley B King born on 25th September 1925 will soon be eighty-nine; so it's about time. This DVD release is approximately two hours in length, produced and directed by Jon Brewer. King worked closely with Brewer for two years to construct this film. The film is narrated by Morgan Freeman. "The Life of Riley" includes appearances and contributions from: Aaron Neville, Bill Cosby, Bill Szymczyk (who was the producer of the album "Completely Well" that also included "The Thrill Is Gone,") Bill Wyman, Bono, Bonnie Raitt, Bruce Willis, Buddy Guy, two time B.B. horn arranger Calvin Owens, Carver Randle, Derek Trucks, Dr. John, Eric Clapton, George Benson, Joe Bonamassa, Joe Walsh, John Mayer, John Mayall, Johnny Winter, Jonny Lang, Kenny Wayne Shepherd, Mick Taylor, Morgan Freeman, Paul Rodgers, Rev. David Matthews, Ringo Starr, Ronnie Wood, Santana, manager Sid Seidenberg, Slash, later producer Stewart Levine, Susan Tedeschi, Tina France, Walter Trout, Wayne Cartledge and many others.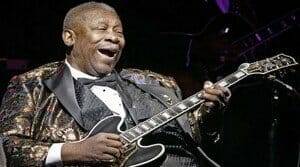 Highlights include early interviews and concert clips, King's move to Memphis, meeting up with Rufus Thomas and becoming a DJ on WDIA where he performed six nights per week. Note: B.B. got the radio gig when he was asked if he could write a jingle for one of the stations ad sponsors. Onto his first recordings specifically "3 O'clock in the Morning Blues," and when he received a twenty-five thousand dollar advance (thanks to advice from Fats Domino) to sign with ABC records. The impact of albums "Live at the Regal," and "Live at the Cook County Jail," and being influenced by Count Basie, Duke Ellington, Django Reinhardt, Charlie Christian whose names are more synonymous to jazz, yet there's his admiration for the jazz-blues sounds of guitarist T-Bone Walker. There's a short clip of B.B. jamming with Johnny Winter, were King remembers his IRS problems, and as Winter and his band mates were to only white folks in the club, B.B. thought they might be IRS agents – not. King also opines about the first time he performed at the Fillmore West where he saw the white hippies lurking around the venue, thought he was booked at the wrong auditorium. King goes on to say how enamored he was with Bill Graham's announcing King as the "Chairman of the Board," and how he cried on-stage and afterwards as this was the first time he played in front of a predominantly white audience.
Moving forward how manager Sid Seidenberg made all the right moves for B.B. getting him to perform in front of different audiences and opening for the Rolling Stones where Bill Wyman remembers that it was the Stones best tour. King's work with producer Bill Szymczyk convinced B.B. to record with studio musicians on "Live & Well" where half the album was live music with BB's regular touring band, and half was recorded in the studio with Szymczyk's hand-picked musicians. Which led to Szymczky's studio ensemble on the album: "Completely Well" where "The Thrill Is Gone" was born with strings and violins. Around '74 Stewart Levine who was well-known for his work with the Crusaders started to produce B.B. and teamed King with the Crusaders going on tour together and again showcasing B.B. to yet another different genre audience. Later collaborations with Bono-U2 with their smash hit "When Loves Comes to Town" and their 89-90 roadshow. Though there was no tour King talks about working with Eric Clapton, and remembers how Clapton wanted B.B. to play acoustic guitar, as he did on the Alexis Korner's "Alexis' Boogie" with members of Humble Pie on "In London" from '71, but King was happy playing acoustic, I thought he sounded great. Without going on and on, this fine documentary mostly culminates at B.B.'s museum www.BBKingMuseum.org at his hometown in Indianola, Miss.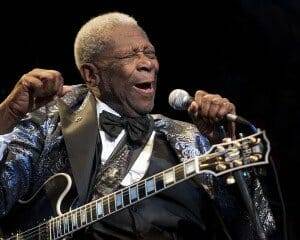 The "extras" include interview segments with Buddy Guy, Mick Jagger with Ronnie Wood, Bonnie Raitt, Derek Trucks, Bobby "Blue" Bland, Walter Trout, Susan Tedeschi, Santana, Joe Bonamassa, Dr. John, John Mayall, Slash, and Leon Russell. There's also live footage from the 2011 concert at the Royal Albert Hall with Ronnie Wood, Derek Trucks, Susan Tedeschi, Mick Hucknall and Slash performing (what else) an abbreviated "The Thrill is Gone."
"The Thrill Is Gone" may have been largely responsible for commercially etching B.B. King's name in stone, though I always felt that as good as that tune was it wasn't his best; especially if you saw him (back in the day) performing live, his sets were hair-raising, riveting, meaningful, heartfelt and forever memorable! But those who followed B.B. King's career know that, and if you didn't it's clearly evident on this (very well done) DVD summation of the one and only King of the Blues. Amen.
For fifteen years Bob Putignano has been pivotal at WFDU with his Sounds of Blue radio show: www.SoundsofBlue.com – Previously a senior contributing editor at Blues Revue, Blueswax, and Goldmine magazines, and Music Editor for the Westchester Guardian. Putignano can be contacted at: bob8003@yahoo.com
Bob Putignano: www.SoundsofBlue.com
Weekly Music Editor at: https://www.WestchesterGuardian.com – NYC area Newspaper Now celebrating 15 + years on the air at WFDU https://wfdu.fm