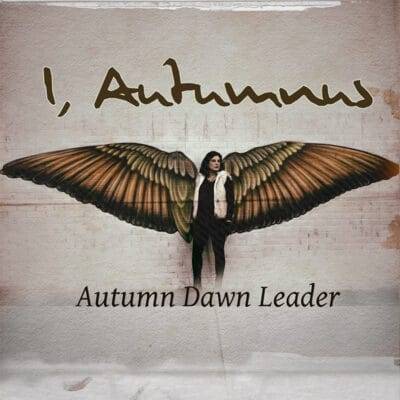 Autumn Dawn Leader
I, Autumnus
Autumn Dawn Leader (and that's her real name!), singer/songwriter and multi instrumentalist was born in the USA and moved to the East Midlands of the UK in 2004.
She took her first musical steps at the age of four when she performed in concerts with her mother. At 16 she wrote her own songs and refined her piano playing. A lot happened in her life, she took time off, raised a family and found new people interested in her music. From 2005 to 2006 she was the front wife of "The Chairs" a popular covers band in Nottinghamshire. Even if it was a lot of fun, it was her own music that Autumn wanted to present to the world.
In 2015 she came back, found a music scene that was perfect for her, performed in clubs and various venues and refined and completed the musical instruments she plays, including a medieval 10 string lyre. She released her first album, 'The Other Side' in 2016. After 'The Other Side' came 'A Collection of Tears' an EP she released in 2018, in 2019 came 'The
Color of Autumn' (a collaborative project with Australian producer Chris West), has released numerous singles all of which have received a lot of attention and have been played on well-known radio stations.
She not only went solo but also worked with veteran Leicestershire songwriter and performer Chris Chambers and, together, Chris and Autumn were a duo called 'The Secret Magpies'. Unfortunately the Covid pandemic ended this collaboration.
And now she presents her new album "I, Autumnus" An album like the artist herself … not to be pigeonholed, a bit stubborn, a bit uncomfortable .. but always yourself!
"Autobiography", first song on this album and it also shows what we can expect. A voice that is so haunting that you get goosebumps from the first note causes a text that takes the listener away, played with virtuosity. There is no better debut for an album. And it goes on like this, with "Burned"
Stunned again

You entrance me

But I've learned

I must turn away
Read I be burned", sad and at the same time so beautifully sung and played, another moment that gets under your skin by listening.
"The Bridge At Abermaw", a collaboration with Andy Griffiths, Autumn at the piano, a listening pleasure of a special kind, not to mention the lyrics, which as in all of their songs are meaningful and linger on for a long time.
"Seaweed Dreams", the background of this song, was a challenge that asked Autumn to write a song about seaweed that she didn't know how or if she would succeed. Now it's her most requested song and rightly so. A love song, so beautiful, so intense, so wonderful!
"The Angel Song", a hymn to music and friendship, performed on the piano, calm and you could almost say a sublime sound and here again with lyrics that get into your ears and under your skin.
"Timelord Confessions (Keep On Running: The Doctor's Anthem", with a little over seven minutes the longest song and for me one of the most beautiful, if I could even say that there is one most beautiful song… vocals, percussion, text … everything seems so perfect and so light, it is as if the artist merges with her songs.
"Someplace To Be Flying", impressive with lyrics and the melody, yearning and dreaming, brilliant.
"The Hunted", the next highlight, it's like you were listening to a story and you just can't turn your ears away, because it's too captivating.. What I like about this song is the change in tempo after about a minute, which gives the whole song a special note.
"Last Years Coffee Cloud Dreams ",and again an expressive song that is a little sad and is still as worth listening to as every other song on this album.
" Experience " a song that was created at the beginning of the first lockdown in 2020 and Autumns says about it: "I feel it's the perfect track to close this album with, I leave you with
My Experience."
And I say thank you to Autumn Dawn Leader for this album, something very special and something that I've rarely had the honor to review. The mirror of a soul, an artist who is not afraid to sing about fears, who doesn't gloss over anything or who only sings about sunshine. She sings what she feels and "I, Autumnus" is one of the most authentic albums I have ever heard. With her extraordinary voice that can do anything from hard to delicate and her incredible piano skills and of course the acoustic guitar, this woman is the absolute hammer for whom I run out of superlatives!
Make up your mind, listen to this album and judge for yourself. One of the best albums of this year for me!
Help Support Making a Scene
Your Support helps us pay for our server and allows us to continue to bring you the best coverage for the Indie Artists and the fans that Love them!
Make a one-time donation
Make a monthly donation
Make a yearly donation
Choose an amount
Or enter a custom amount
$
---
Your contribution is appreciated.
Your contribution is appreciated.
Your contribution is appreciated.
Donate
Donate monthly
Donate yearly
You can donate directly through Paypal!
Subscribe to Our Newsletter
Find our Podcasts on these outlets