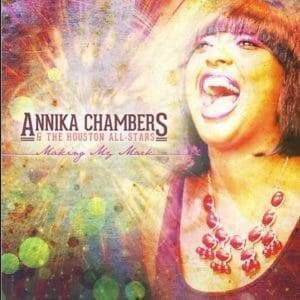 Annika Chambers & The Houston All-Stars
Making My Mark
Montrose Records
Annika Chambers a.k.a. U.S. Army Sergeant Annika Chambers served eight years in Iraq and Kosovo. Since she returned to the states this Houston native has been living her dream. This is her debut album.
Producers Larry Fulcher and Richard Cagle have assembled an impressive band and gave them the name The Houston All-Stars. Fulcher is the Grammy and Blues Music Award winning bassist who was a member of The Phantom Blues Band when they worked with Taj Mahal. This band includes Chambers, vocals; Fulcher, bass; Samantha Banks, drums; Brad Absher, Corey Stoot and David Carter, guitars; Randy Wall, Skip Nalia and/or Barry Seelen, keyboards; and the horn section of Anthony Terry and Kyle Turner, saxes; David Delagarza, clavinet; and an arrangement by the Grammy winning Darrell Leonard also from The Phantom Blues Band.
The album opens with "Move" co-authored by Chambers with Dominique and Larry Fulcher and it tells us Annika's story. Other songs written by Chambers include "Lick 'Er" and "Guitar Boy". Dominique Fulcher also contributes both "Down South" and "That Feel Good".
"Barnyard Blues" written by Fulcher, Mike Finnegan, and Johnny Lee Schell first appeared on the Phantom Blues Band's second (post Taj Mahal) cd "Footprints" released in 2007.
Chambers fondly remembers two of our all time greats. She covers Robert Bobby Charles Guidry's "The Jealous Kind" originally recorded by Ray Charles in 1977. Her version is equally fabulous. She also covers Joe Sample's "Put It Where You Want It" recorded by The Crusaders in 1972.
Included also is Steve Cropper's "Love's Sweet Sensation", Al Staehely's "Trust Me", Rose Marie McCoy's "It Hurts Me to My Heart", and B. B. King's "Let's Get Down To Business".
Chambers is an expressive vocalist that will give you goose bumps. She is creating quite a stir as she has just received a 2015 Blues Music Award nomination as Best New Artist. Win or loose Chambers isn't leaving center stage anytime soon.
Richard Ludmerer