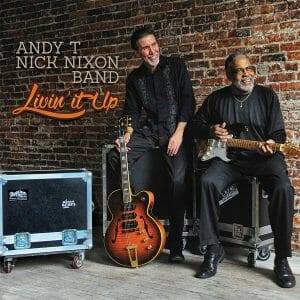 Andy T-Nick Nixon Band
Livin' It Up
Delta Groove Records
Last year Andy Talamantez and James T. "Nick" Nixon went into the recording studio with producer Anson Funderburgh. The result was their widely acclaimed debut "Drink, Drank, Drunk". This is their follow up recording.
Producer Funderburgh has once again assembled a stellar backing band. Larry Van Loon, whose credits include Shaun Murphy, is on piano and Hammond B-3; Christian Dozzler, on harmonica and piano; Ron Jones and Dana Robbins, on saxophones; and the rhythm section of Sam Persons, bass, and Jim Klinger, drums.
The opening track "Baby Right Now" is the first of six songs written or co-written by Nixon. Nixon is a soulful vocalist and it's his voice that we hear throughout the recording. Andy T is a fine guitarist and here he takes a T-Bone Walker styled solo. "Best in Town" sounds like a Jimmy Reed tune. "Back Down South" and "Oh Baby" feature the saxes, and solos by Jones and Robbins. "Love at First Sight" is the most poignant song on the album.
"One Note Shuffle" is a fabulous instrumental written by organist Van Loon and it gives him, Andy T and Robbins a chance to solo. "Let's Say It's For Good" also written by Van Loon is a great vehicle for Nixon's soulful voice. "Good Man" written by Renee Funderburgh may be the biggest surprise on this album and one of Nixon's best performances.
That's not all. There are three fabulous covers. Delbert McClinton's "Livin' It Down"; T-Bone Walker's "My Baby is Now On My Mind"; and from Sharon Jones and The Dap Kings "Whatever You Had You Ain't Got It No More".
Nixon's soulful voice, Andy T's guitar, and fine soloing by members of the band make this an enjoyable recording. The album is wonderfully produced by Funderburgh.
Richard Ludmerer