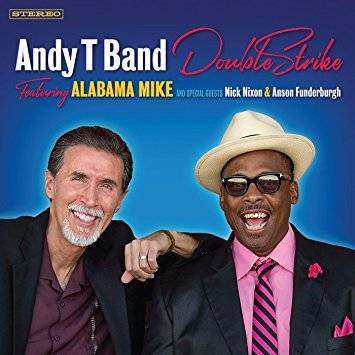 Andy T Band
Double Strike
fea. Alabama Mike, Nick Nixon & Anson Funderburgh
American Showplace Music
When guitarist Andy Talamantez left the West coast he settled in Nashville. Andy used to lead the Nashville Blues Society's Sunday night jam and it was there that he first met James "Nick" Nixon. Once they became partners in the Andy T – Nick Nixon Band they called Anson Funderburgh and asked him to be their producer. They released their debut recording "Drink, Drank, Drunk" in 2013 on the Delta Groove Record label and followed up a year later with "Livin It Up". The latter received a 2015 Blues Music Award nomination for "Traditional Blues Album of The Year".
In 2015 the band switched record labels. "Numbers Man", their third studio recording on Blind Pig Records, received two more BMA nominations; one for the 2016 "Traditional Blues Album of The Year" and one for the prestigidous "Band of The Year".
Unfortunately Nixon has some health problems and has been forced to retire from touring. The band is now called The Andy T Band. Michael A. Benjamin a.k.a. Alabama Mike, who also has three albums of his own, was asked to become the bands lead singer. On this new album Nixon and Bama share the vocals therefore the album becomes a star studded celebration. The band includes Andy T, guitar; co-producer Funderburgh, second guitar; Larry Van Loon, piano and B-3; Johnny Bradley, bass; and Jim Klinger, drums. The Texas Horns include Kaz Kazanov, tenor sax; John Mills, baritone sax; and Al Gomez, trumpet. Guesting are Mike Flanigin, organ; and Greg Izor, harmonica.
First we get to hear Bama's beautiful tenor. The opener "I Want You Bad", written by Tom Hambridge and Richard Fleming, is a house rockin' tune. Guitarist Andy T takes the first solo before we hear Funderburgh on the second. On "Somebody Like You", written by Van Loon, we again hear how beautiful Bama sings before Van Loon takes ownership with his B-3. Bama also sings on Nixon's "Sad Times" with solos by Flanigin, Andy T, Kaz, and Mills. Bama sings again on Andy T's "Dream About You"; on Kaz's "Where Did Our Love Go Wrong", and on his own "Doin Hard Time" co-written with Andy T and Funderburgh.
Nixon also has an emotive voice. He sings lead on two songs written by Andy T; the Jimmy Reed styled "Deep Inside" featuring Izor on Harmonica, and on "I Was Gonna Leave You" with guitarist Funderburgh playing lead. Nixon also sings on his own "Sweet Thing"; on two covers from Chuck Willis, "I Feel So Bad" and "Juanita"; and on Goree Carter's "Drunk or Sober".
The instrumental "Mudslide" written by Funderburgh first appeared on 1997's "That's What They Want" recorded by him and Sam Myers. It's Andy T on guitar.
On "Double Strike" each and every track is outstanding as the band features two fabulous vocalists. If that weren't enough the Texas Horns flawlessly adorn the production. This is without a doubt one of the best albums of the year.
Richard Ludmerer
[amazon_link asins='B072L7MWF3,B071VCS3TX,B0727VXSNH,B071HFJJB1,B072L7STH9,B072BGSGZK,B0722PGYG2′ template='ProductCarousel' store='maasc-20′ marketplace='US' link_id='08c269c9-521c-11e7-b65a-2974ecbddf8f']