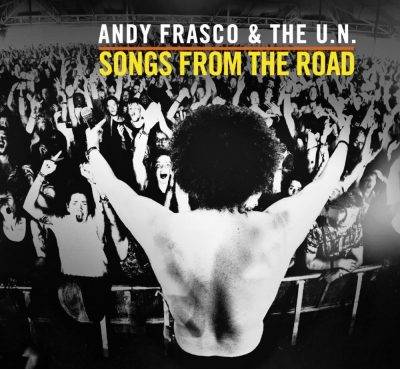 Andy Frasco travels with a huge group of musicians called the UN, who play instruments ranging from guitars and drums to a horn section which includes a tuba. All of them are capable of dancing with great exuberance. Frasco hmself is an afro-haired crazy man who interacts with an audience better than anyone I have ever seen. That is why you need not only the CD of Andy Frasco and The UN: Songs From the Road but the DVD included with it as well. The CD and DVD were recorded at concerts which took place over several days in Bamburg, Germany.
A word of caution: Frasco uses the "F" word a lot and some of the talk and lyrics are explicit, so if you are sensitive to these things, you may have to pass this one by. But if you ae language-tolerant, you are in for one of the most entertaining musical experiences imaginable!
The music begins with an ultra-high energy level from the first notes of "C Boogie." You will probably be out of breath by the end, but don't expect a respite with "It's Been a Struggle" It's crazy-fast to start with, and by around the three-minute mark you may well be wired from all that energy. That's when Andy starts using the rest of the song to play around with the band. He asks from some classical music from the tuba player and he gets it yet the tempo does not slow down! Frasco then begins spotlighting the entire band, including sometimes mixing up who plays what. It is one of the most amazing things I've seen or heard and you need the DVD to even begin to follow what's happening!
Frasco is constantly talking with and dancing in and out of the audience but perhaps the best interaction is when he encourages the entire audience to sing along on the incredibly catchy "Stop F*ing Around," and they do!
Two more songs I love of the many great ones on the album are "Mature As F*ck" and "Smokin' Dope and Rock'N Roll." I love the humor and honesty of these songs. There's really not one bad song but my other favorite is the change of pace at the end as Fasco once again encourages the audience to sing along on a blistering version of "Killing In The Name Of."
This is without question, my favorite party album ever and my favorite live concert DVD. I encourage you to get the package!
[amazon_link asins='B06XGM8TM5,B019A78S8Y,B00KQYLPQI,B06ZXYKZBH,B06ZZYJ312,B019A78ZGY' template='ProductCarousel' store='maasc-20′ marketplace='US' link_id='f7b68afd-791c-11e7-8eac-09e32fba74ae']