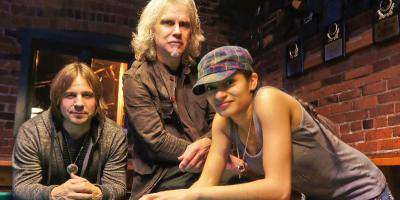 An Exclusive Interview with Todd Wolfe by Richard Lhommedieu on Mixcloud
Todd began playing on the New York scene back in 1979 with his band Nitetrain, a trio that clearly reflected Todd's influences—60s bands like Cream, Jimi Hendrix, Fleetwood Mac and other bluesy-rocking-jamming bands. The wave of guitar players that included Eric Clapton, Peter Green, Jimi Hendrix, Michael Bloomfield were and are influential and evident in Todd's style and approach to guitar-playing. His next venture was Troy & the Tornados, a band based in the New York metro area. Todd met two women in this time period that would eventually play a part in his guitar-playing and song-writing experience: Carla Olson of the Textones and Sheryl Crow, at the time an unknown back-up singer. By the late '80s, Sheryl had sat in several times with the Tornados in New York City. Eventually Todd decided to fly to Los Angeles and write with Sheryl and showcase their new band in hopes of a record deal. Nothing came of this particular venture, but these two would find each other again on the same stage just a few years up the road!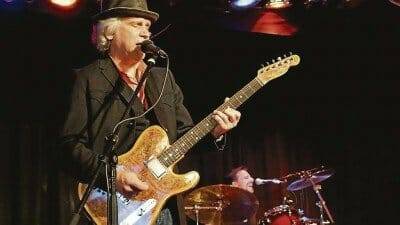 After relocating to Los Angeles with a revamped line-up, Todd began to perform in clubs in southern California, while also scoring music for the Playboy Channel and connecting with old friend Carla Olson and her latest band. But it wasn't long before Todd was back with Sheryl Crow, who had just completed her about-to-be-released debut album, the multi-platinum Tuesday Night Music Club. Crow needed a touring band, including a lead guitarist that could add some extra excitement to the live shows, and Todd filled that role from 1993 until 1998.
Todd eventually went on to form several bands, including a talented bunch dubbed MojoSon that were signed to A & M Records and included alumni of Sheryl's band along with alumni of Sun 60 and Five for Fighting. With parent companies swapping ownership of A & M Records, the MojoSon album sadly was never released. Todd has had many excellent partnerships with fine musicians from coast to coast. Todd has also worked as a duet with famed Mountain guitarist Leslie West, touring and recording on two of Leslie's solo albums as well as recording on Mountain's tribute to Bob Dylan, "Masters of War" album!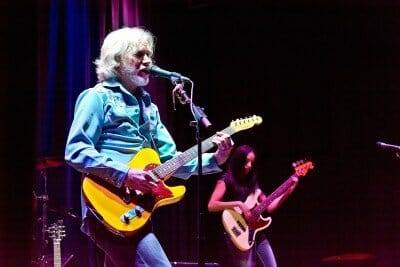 Todd is especially proud of his current lineup with Roger Voss on drums and Justine Gardner on bass. Roger is a powerful pocket drummer. The young Ms. Gardner plays a deep groove. And they both back Todd on soulful vocals. This lineup recorded Todd's upcoming summer release "Miles to Go," his eighth album since departing Sheryl's band. The new album is mostly originals that range from swampy grooves to all-out rockers and even a wistful ballad from which the title of the album was derived called, I Stand Alone. The band was joined by John Ginty (keyboards), Steve Guyger (harmonica) and Sweet Suzi (backing vocals). The Todd Wolfe Band is keeping busy with tours criss-crossing North America and Europe through 2013!
The Todd Wolfe Band recall the days when "Men were men and amps were amps," real tubes crackling with a bluesadelic sound reminiscent of the best rock and roll bands of the '60s. This band jams and rocks, but their music is deeply soaked in blues. Todd Wolfe, Roger Voss and newcomer, bassist Justine Gardner have established themselves as one of top power trios by relentless touring and spreading their legend from coast to coast and beyond.
Hittin' the Note magazine, "Imagine some power trio mixed into a Texas blues foundation and overlaid with trippy psychedelia … that's the essence of Wolfe's music." And the essence of the Todd Wolfe Band.
https://open.spotify.com/artist/7iiAeyHNSqp3toH2H7dauE