AN Exclusive Interview with Tas Cru by Richard Lhommedieu on Mixcloud
This week we talk with Road Warrior and INDIE B artist Tas Cru! We get right to it talking about his New CD, The IBC, The Future of the Blues and SO MUCH MORE! .. You are going to love this interview!
Website-https://www.tascru.com
Facebook-https://www.facebook.com/TasCru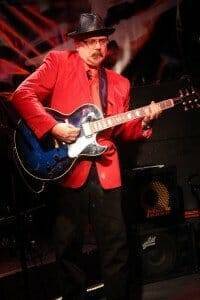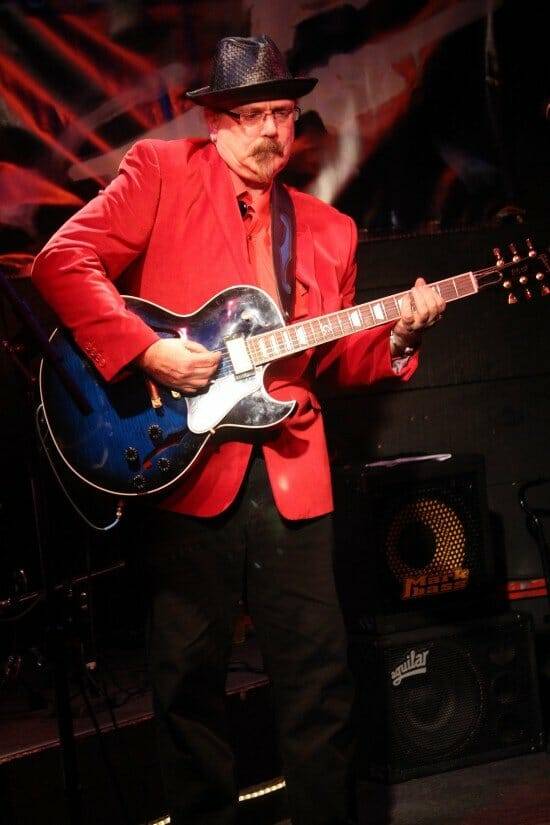 Raucous, rowdy, gentle, sweet, eccentric, quirky, and outright irreverent are all words that fittingly describe Tas Cru's songs and testify to his reputation as a one of the most unique of bluesmen plying his trade today. It's not for nothing that Tas Cru has been dubbed, "the Master of TRIPLE entendre." His songs are blues poetry – crafted with rare verbal flair. Live, they are delivered with a power and passion that only the seasoned entertainer can render. As Living Blues magazine observes," The vivacity and sheer joy with which Cru plays is intoxicating and his ability to cast a memorable hook is magical!"
In early bands, Tas was introduced to the great Sun Records heroes and the country blues that later served as a counterpoint to the rock- blues he idolized as did so many young guitar players of his time. These combined influences are heard in his music – 50+ original songs on four albums- "Biscuit" (2006), "gravi-Tas "(2008), "Grizzle n' Bone" (2009), "Jus' Desserts" (2010), and "Tired of Bluesmen Cryin'" (2013). A new album, "Keep the Money" is slated for release in Fall, 2014.
Cru grew up in a very musical and generally unquirky family (except for him). Unlike his talented brother and sisters, he did not pursue music in school instead exploring and developing his talent taking up with a rougher crowd of self-taught musician where he was introduced to the Sun Records heroes of that day. Cru's first foray into the blues came after leaving the US Navy when he was asked to join a band formed by a former shipmate named Delray Streeter, a bluesman of unlimited bravado and attitude but limited singing and harmonica skills. Streeter was raised in El Dorado, Arkansas and claimed a rich blues heritage from his upbringing. This partnership, though shot-lived, proved to be very influential as Streeter's repertoire tended toward the older and much rawer country blues. Cru's schooling in country blues later served him well and is infused into his original songs along with his rock-blues influences.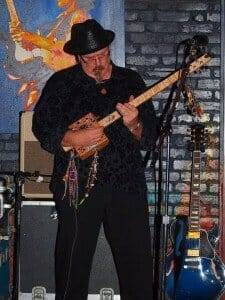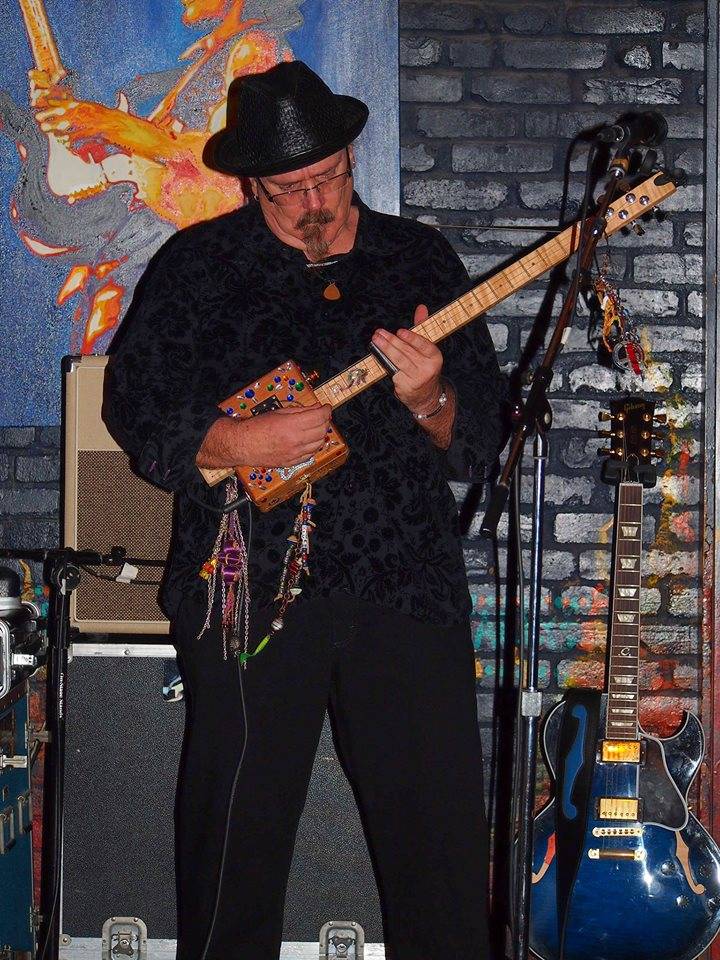 Based out of upstate New York. Cru performs in a variety of formats ranging from solo-acoustic to a 7 piece backing band. Blues Festival performances of note include Billtown Blues Festival (Williamsport, PA),, Chenango Blues Festival( Norwich , NY), Kalamazoo, Blues Festival (Kalamazoo, MII), Chattauqua Hills Blues Festival(Sedan, KS), Bluesberry Festival (Lafayette LA), Oxford Blues Festival (Oxford ,MS), Tall City Blues Fest (Midlan,d TX), Mohawk Valley Blues Festival (Herkime,r NY), Crossborder Blues & BBQ Fest (Wilso,n NY), Buffalo/Niagara Blues Fest (Buffalo,NY),, and NYS Blues Fest (Syracuse, NY). Noteworthy recent major club appearances include BB King's and Rum Boogie Cafe (Memphis, TN), Ground Zero Blues Club (Clarksdale,, MS), Blue Rose Cafe (Tulsa, OK), Legacy Blues Club (Fayettevile, AR), Bourbon St. Blues & Boogie Bar (Nashvillee, TN), Uncle Bo's (Topeka,, KS), 411 Club (Kalamazoo, MI), Black Eyed Sally's (Hartford, CT) Time Out Pub (Rockland, ME), Club Helsinki (Hudson, NY) Bearsville Theater (Woodstoc,k NY) and Caffe Lena (Saratoga Springs,, NY). As well, he has performed numerous Blues Education programs and workshops in schools and communities around the country.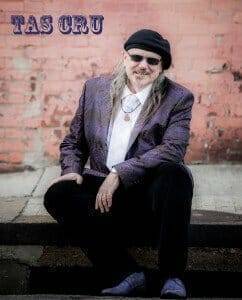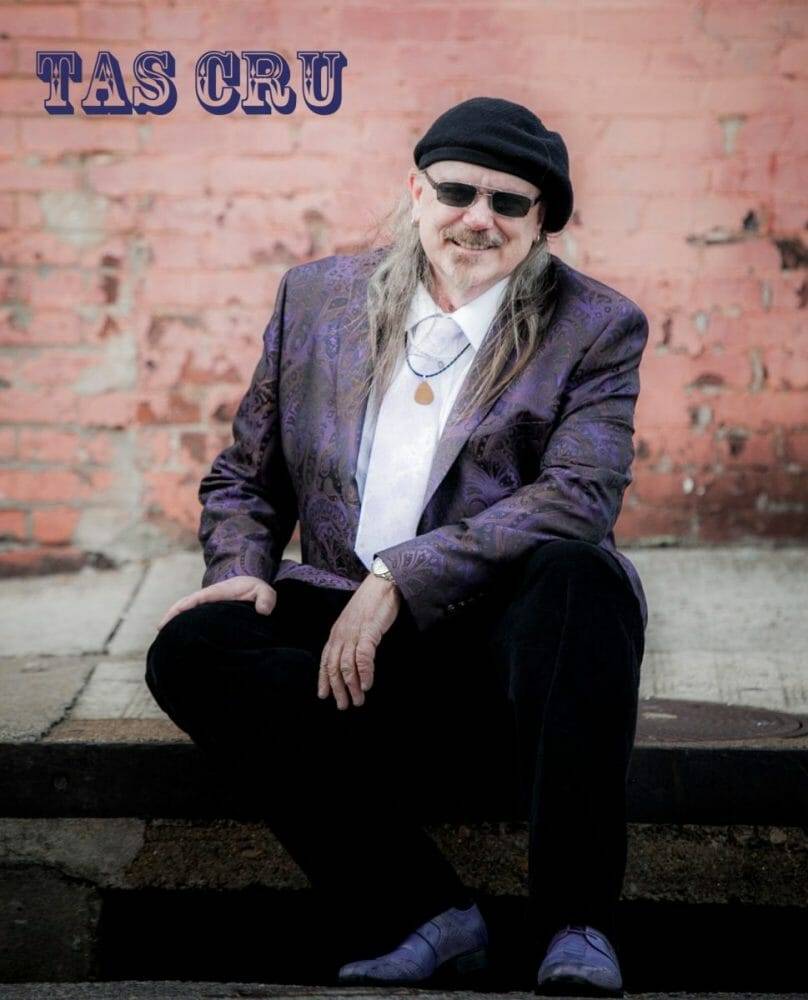 As noted above, Tas Cru's discography includes four albums of original songs – "Biscuit" (2006), "gravi-Tas "(2008), "Grizzle n' Bone" (2009), "Jus' Desserts" (2010). "Tired of Bluesmen Cryin'"(2013) made the Roots Music Report's Top 50 Blues albums for ten consecutive weeks and the Top 25 on the prestigious Living Blues Chart. In addition to these recordings is Cru's 2009 release, "Even Bugs Sing the Blues", an album of original blues music for kids. This album is not for sale. Instead Cru donates copies to schools, community groups and blues societies to use for their fundraising efforts in hopes that it will help inspire a new generation of blues fans and musicians.
Cru's 2010 album, "Jus' Desserts" spotlights Cru's critically acclaimed songwriting talent. Accolades from the blues press include Living Blues that notess, "his ability to cast a memorable hook is magical." Cru's earlier albums have also received wide recognition. Downbeat Magazine named "Grizzle n' Bone" as one of its top 10 blues picks saying, "Tas Cru has the soul of a poet." Tas' CD, "gravi-Tas " (2008) and his solo acoustic 2006 CD, "Biscuit, "both enjoyed wide international and national airplay -especially "gravi-Tas" that was featured as a "Pick to Click" on XM Radio's BB King's Bluesville. There are high expectations for his new album, "Keep the Money," currently in the works, with an anticipated release in Fall, 2014.