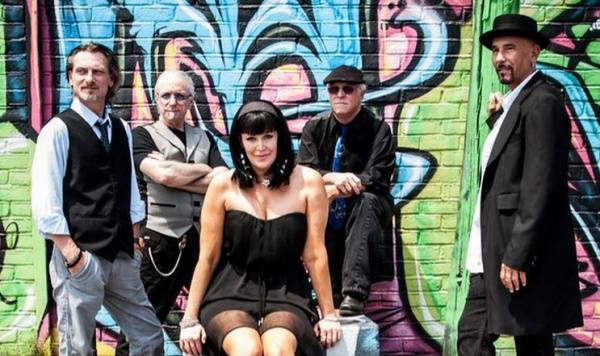 An Exclusive interview with Markey Blue by Richard Lhommedieu on Mixcloud
---
Winners of the Atlanta Blues Society Blues Challenge!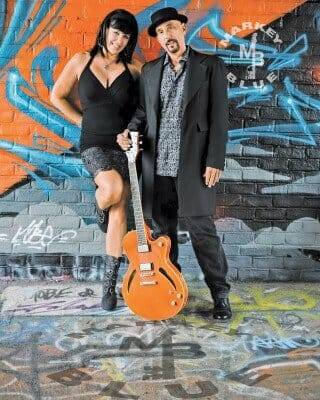 HIGH-ENERGY DEBUT FROM MARKEY BLUE BREATHES NEW LIFE INTO CLASSIC SOUL Hey Hey propels co-leaders Markey and Ric Latina into the international spotlight with original songs, fresh grooves and some help from Stax legend Steve Cropper
NASHVILLE, TN — Markey Blue's debut album Hey Hey puts a fresh new spin on a classic sound. Bandleaders Markey and Ric Latina weave elements of timeless soul and R&B with hook-smart pop songwriting, cool grooves and fire-breathing arrangements, crafting a dozen songs that feature an A-list of Music City studio and stage musicians, including special guest former Allman Brothers Band member Jack Pearson. Steve Cropper, legendary Stax Records songwriter, artist and producer, also had a hand in assisting with vocal production of the closing track.

Cropper, a Grammy-award winning songwriter whose credits include some of the greatest hits in soul music history, notably "In the Midnight Hour" and "(Sittin' On) the Dock of the Bay," offers this ringing endorsement: "What do you get when you have a great singer, a great band and great songs? A great project. Markey Blue, you have done it!"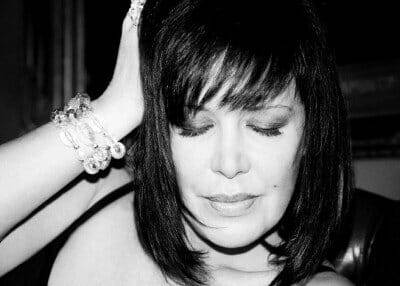 The proof, of course, is in the tracks that bring Hey Hey to vibrant life. The album, produced by Latina and Markey, includes "Ain't No Angel," a number driven to gritty dynamism by Markey's powerhouse vocal performance and Latina's rippling guitar. "When Love Comes Along," a driving, horn-propelled ode to Cupid's sting that's already winning the attention of the "triple A" and blues radio formats, percolates over a big-boned house-party groove. Markey's compelling, soft-edged performance in the heartbroken ballad "Baby I'm Crying," lifts the song to emotional heights. The honey-sweet "Play Me" features elegant guitar by Pearson, who also co-wrote the tune.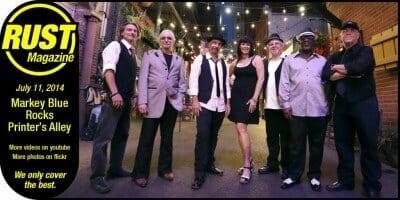 Throughout the disc Markey and Latina display their uncanny ability to draw on the wellspring of great soul music — particularly the Memphis-based sound of the Stax and Hi Records labels and Alabama's Muscle Shoals studios — as a source of inspiration for delivering original numbers that seem satisfying familiar, but are buoyed with wide-eyed energy and zealous performances that make them ring distinctly contemporary. On every cut Latina proves he's a one-man encyclopedia of R&B licks 'n' leads who also brings personal invention and a bold, cutting tone to the vocabulary. And Markey is a masterful singer whose voice ranges easily from burnished, horn-like melodic arcs to simmering introspection. As a team, they have seemingly limitless scope.


Markey and Latina met at a club in the suburbs of Nashville on a night when their previous bands shared a bill. "Ric called me shortly after that and suggested we join forces," Markey explains. As a new sound coalesced and grew, they expanded their trio to include horns and keyboards and resolved to cut a four-song EP.

"As soon as Ric and I wrote our first song we knew we were onto something," Markey says. "The writing process comes so easily for us. The ideas just flow." And they kept flowing, until Markey and Latina had the raw material for Hey Hey.
"Markey Blue has been a growing process for both Ric and myself," Markey continues. "We both stepped outside our comfort zones to create something different, something new. We were looking for a new approach to a classic sound that would appeal to a wider audience, and together I think we've found it."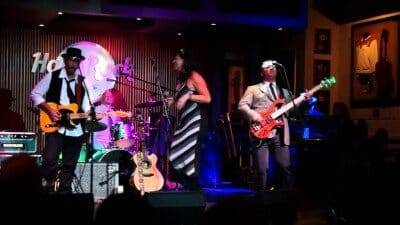 Even apart, Markey and Latina have impressive resumes. Markey had accumulated a wealth of performing experience before she became a songwriter. Her career ignited as a showgirl in Las Vegas, which led to appearances around the world. Next, she turned to acting in film and television before embracing stand-up comedy. By the time Markey turned to music as her full-time artistic outlet, she had become one of the country's top female impressionists. The down-to-Earth songstress was on a small country label when she was relocated to Nashville, but eventually the lure of soul and R&B called her home. Once on the blues, soul and R&B path, Markey quickly became a rising talent in the roots music world — performing with, Taj Mahal, Candye Kane, Walter Trout, Delbert McClinton, Anson Funderburgh, and Bobby "Blue" Bland — before joining with Latina to form Markey Blue.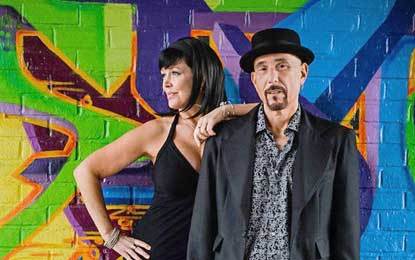 Latina has a longstanding reputation as an inspired studio and stage guitarist, and as a songwriter and studio craftsman. Besides his session credits, his extensive touring history includes roadwork with Waylon Jennings, Hank Williams III, Collin Raye, Suzy Bogguss, Billy Dean, John Berry, Vern Gosdin, Kirk Whalum, Sherrié Austin, Gary Puckett and Rhonda Vincent.
Although Hey Hey is a vital realization of Markey Blue's sound and Markey and Latina's songwriting and studio prowess, both leaders truly thrive on stage. Markey Blue performs well over 100 dates year.

"Feeling the energy and the spontaneity of our big band in concert, and exercising the freedom we have to be creative on the spot, really electrifies us and the audience," Markey says.

"For us," she continues, "Markey Blue is about putting the music we have in our hearts into the world. It's also a constant way for Ric and myself to evolve as performers, writers and producers. The more our band play together, the more creative things become."