An Exclusive Interview with Josh Hoyer and the Shadowboxers by Richard Lhommedieu on Mixcloud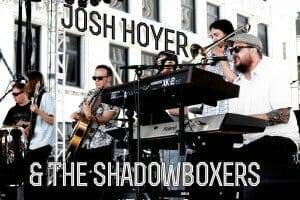 "Living By The Minute, coming out January 13, 2015 from Silver Street Records, is a powerful soul statement, combining the sheer power of Otis Redding, the funk of James Brown and the social immediacy of Puzzle People-era Temptations…Josh Hoyer and the Shadowboxers don't serve up neo-soul, hip-hop soul or some other updated notion of soul music. This is the straight-up undiluted stuff." – SomethingElseReviews.com

Josh Hoyer and The Shadowboxers is an award-winning six-piece Soul/R&B/Funk band from Lincoln, NE. Don't doubt it- we can get down here in the Midwest. Borrowing from Stax, Motown, New Orleans and San Francisco, this band blends the classic sounds of Soul and R&B, yet has been able to make a sound that is fresh and unique.It has been a whirlwind of success in their first 2 years of playing, being nominated for Blues Blast Awards Debut of the Year, being in the top ten of RMR Charts for Soul AND R&B for 30+ straight weeks, named the 2013 Omaha Entertainment Winner for Soul Artist of the Year, and nominated for Artist of the Year for 2014. The band has played the Sin City Soul Revival, Sioux Falls JazzFest, the 2013 International Blues Challenge, dozens of festivals in the Midwest, consistently sells out shows in their hometown and has released a debut album that critics say stacks up to the classics. Their highly anticipated sophomore album, "Living By The Minute" is set to drop Jan.13.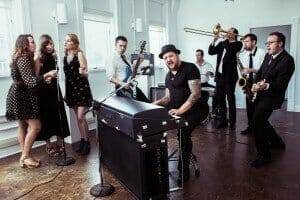 This band is about exchanging SOUL with THE PEOPLE, and with world-class players on every instrument, that is exactly what they do! And this band knows the value of a good song- a band is only as strong as their latest song- so Josh and the boys are constantly working to keep the hits coming- fresh and soulful!
Please take some time to listen to the songs on the site and check out the videos.
Thanks for reading – and thanks for LISTENING!