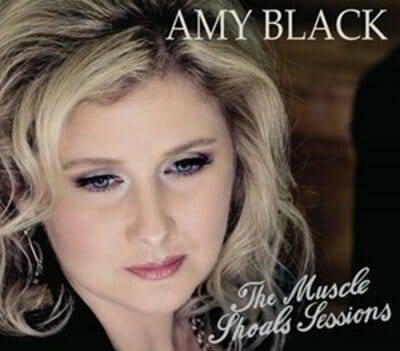 Amy Black
The Muscle Shoals Sessions
Reuben Records
Both of Amy Black's parents where born in the Muscle Shoals area. When visiting her grandparents Black would drive by the FAME studios unaware of its history or significance.
As an adolescent Black had sung hymns in Church but it wasn't until graduating college in Boston and spending a decade working that she rediscovered her love for singing and songwriting. In 2011 she released her first album "One Time". Two years later Black booked a session at The Muscle Shoals studio to record the song "Alabama" which was included on her second album "This is Home" released in 2014.
Originally a folk or alternative country artist Black was also inspired by the gospel, blues, and R n' B of Mavis Staples, Etta James, Aretha Franklin, Otis Redding, and Wilson Pickett. In 2013 and in between her full length recordings Black released a four song EP called "The Muscle Shoals Session". This new album is an expanded version of that original EP and clearly places Black in the soul blues genre.
Recorded at Fame studios "The Muscle Shoals Sessions" features keyboardist Spooner Oldham one of the original "Swampers", the session musicians, that crafted the Muscle Shoals sound. Other Muscle Shoals veterans included are Will Kimbrough, guitars; Lex Price, bass; Charles Rose, trombone and horn arrangements; and background vocalists Ann and Regina McCrary. Additional musicians include Bryan Owings and Paul Griffith, drums; Jim Hoke, sax; Steve Herrman, trumpet; and John Deaderick, organ.
Kimbrough's guitar opens Sam Cooke's "Bring It On Home" but it's Black's vocal and Rose's horn arrangement that really hook you. Black also covers the traditional "You Gotta Move" recorded by Mississippi Fred McDowell, Reverend Gary Davis, Sam Cooke and The Rolling Stones, among others.
Covered also is the Spooner Oldham and Dan Penn co-written "Uptight Good Man"; the Dan Penn/ Rick Hall/ Oscar Franks "You Left The Water Running", Don Covay's "Watch Dog" originally recorded by Etta James; Arthur Alexanders' "You Better Move On" and Bob Dylan's "You Gotta Serve Somebody".
Black includes three originals. "Get to Me" on which she reminds me of Dusty Springfield; "Woman On Fire" and "Please Don't Give Up On Me". The album is meticulously produced and mixed by Lex Price.
Black states that the "Sessions" speak to her soul and that they have changed her musical direction. Black's performance on this recording will speak to your soul too as it does my own.
Richard Ludmerer