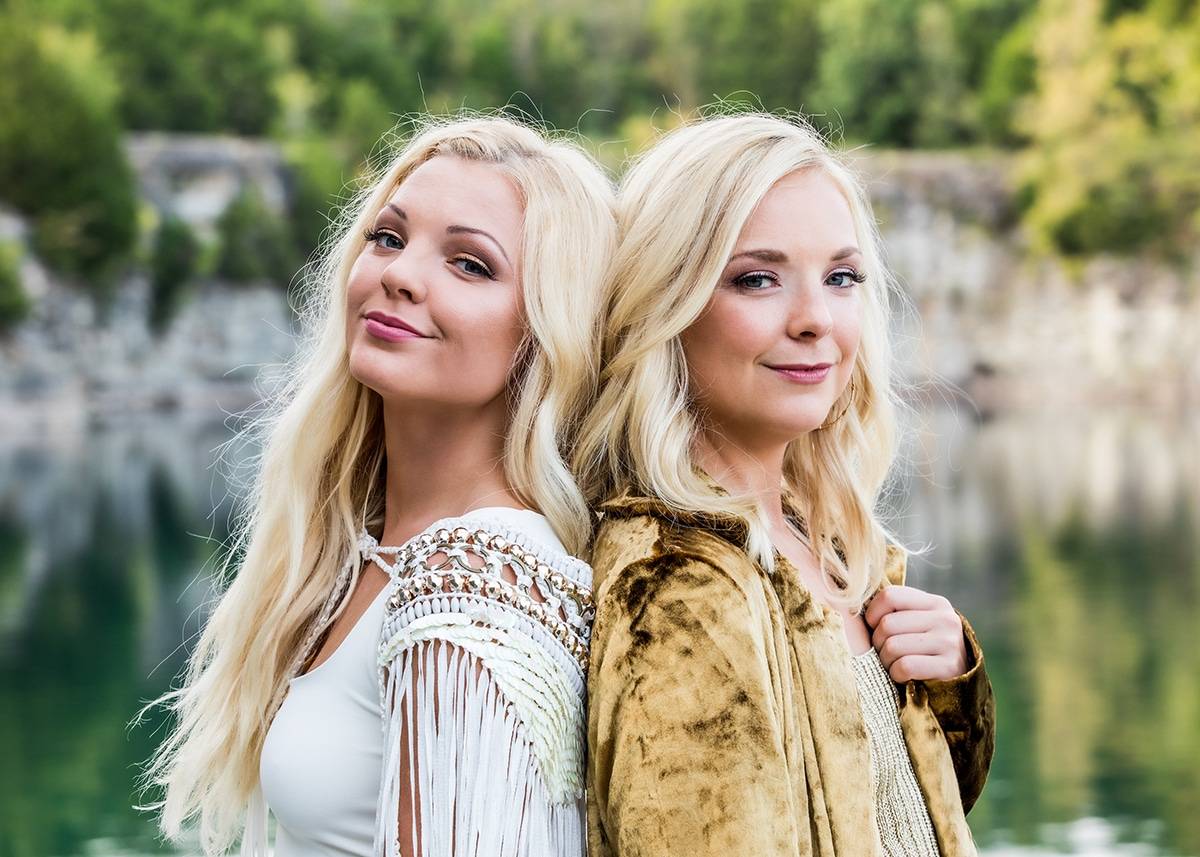 ---
---
---
---
---
---
---
---
---
---
Making a Scene Presents an Interview with American Blonde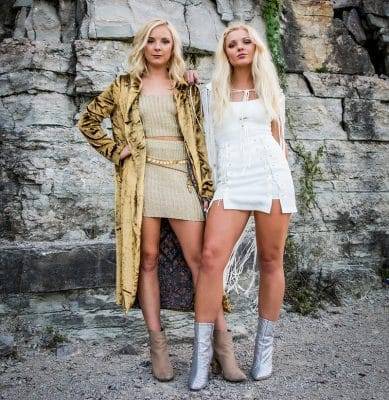 From childhood to adulthood, from trio to duo; from being Southern Halo to becoming American Blonde, the Morris sisters have stuck together through thick and thin. With the rebranding, they are casting off any preconceived notions as to who they should be and are fully embracing who they are – a powerhouse of talent; invigorated, motivated and fully realized.
There were several catalysts behind this transformation, but the process was jump-started when Hannah, the youngest, decided to leave the then-trio, Southern Halo, to return to formal studies. Nata and Tinka took time to reassess their commitment to the band and what they wanted for their futures. "We were 199% all about going forward," recalls Nata.  "We totally support our sister and are so happy she is pursuing her dream," confesses Tinka, the duo's drummer. "But she is just as excited for us to follow our path," she adds. "We're in it for the long haul," says Nata, American Blonde's principal songwriter and guitarist. "I want to be involved in music in some way when I'm in my 40s, my 50s … for as long as I can be, and Tinka feels the same."
After a lot of soul-searching and reflection, the two knew their best path forward lay in their shared past. Their truest love was for the raw, edgier sounds of their musical roots – and it was calling them home. A new producer, artist and songwriter Cliff Downs, was brought in and things started to gel. "Well, really it was more of an explosion of creativity," laughs Nata. "We are just on fire." Tinka started working on crafting her own songs, and Nata began writing even more – and let go of the need to protect her emotions. "When I opened up to what I was really feeling – and I really put it out there, the songs immediately became more honest to me."
"There was nothing ever fake or phony in what we did before," Tinka insists. Adds Nata, "I'm super proud of Southern Halo's first hit, 'Little White Dress' (2015), and it's reflective of who we were then. But our new songs are really more faithful to our roots. They show how the years have shaped us and who we are now."
Whether it's the steamy, wildcat abandon found in the voodoo-beat, bad boy draw of "Somethin' In The Water," the surprising guitar-shredding, dueling vocals found in the loveless wasteland of "Hurricane," or the rapturous sweetness of "Blackwater Creek," the energy is palpable. "There's a grit to our songs now that wasn't there before and it's very true to where we come from," Tinka notes.
"Quicksand," the duo's debut radio single from their upcoming project is a bold breakaway for them. The track opens with a deceptively simple intro, then kicks wide-open with electric-shock guitar riffs and pounding percussion. Written by Nata and frequent collaborator Jimmy Nash, the record features the fresh "live" sound that is distinctly American Blonde.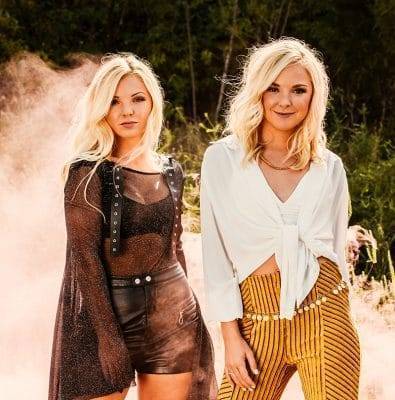 As children of the Mississippi Delta, the siblings were raised surrounded by the Blues-oriented music of the region. The sounds of The Eagles, B.B. King, Lynyrd Skynyrd, The Allman Brothers, Elvis, Stevie Nicks and more echoed throughout their home, and the extensive live music scene drew them like magnets to festivals, fairs and fish fries where music was front and center.
"It was kind of an unconventional childhood," admits Tinka. "We were so focused on what we wanted – and that was to make music – that some of the 'normal' stuff kind of went by the wayside. And we were terrible at sports, after all," she laughs.
Entertainers since their pre-teen years, the Morris sisters have literally lived their lives in the spotlight – and loved every minute of it. Their determination and talent earned them a slot competing in the 2014 Texaco Country Showdown, which led to the immediate release of their first EP (produced by Alabama's Jeff Cook). Two well-received CDs, released in 2015 and 2018 (produced by hit songwriters Gerald O' Brien and Catt Gravitt) followed. As Southern Halo they landed three Top 25 hits on the MusicRow Country Breakout Chart with "Anything Is Possible," "I Think Too Much" and "Don't Let Another Day Go By." They toured throughout the U.S. and the U.K., sharing the stage with acts ranging from Maren Morris to Dionne Warwick and making a name for themselves as up-and-coming Pop/Country darlings.
"We basically did what was expected of us," Nata notes. "The songs were light-hearted and fun; nothing too serious. We cut mostly what the industry professionals around us thought would work – and it did. We are forever grateful for the success of those records, but we have changed so much since then."
With a new name, a new outlook, and an album of new music on the way, American Blonde is shaking off any strictures of the past and jumping headfirst into the future. "This year and all of its challenges have touched everyone. Music brings us hope, gives us an escape and allows us to be ourselves," Nata reflects. "We just want to share it with everyone when the time is right," adds Tinka. That time should be coming soon.
Find our Podcasts on these outlets
Help Support Making a Scene
Your Support helps us pay for our server and allows us to continue to bring you the best coverage for the Indie Artists and the fans that Love them!
Make a one-time donation
Make a monthly donation
Make a yearly donation
Choose an amount
Or enter a custom amount
$
---
Your contribution is appreciated.
Your contribution is appreciated.
Your contribution is appreciated.
Donate
Donate monthly
Donate yearly
You can donate directly through Paypal!
Subscribe to Our Newsletter