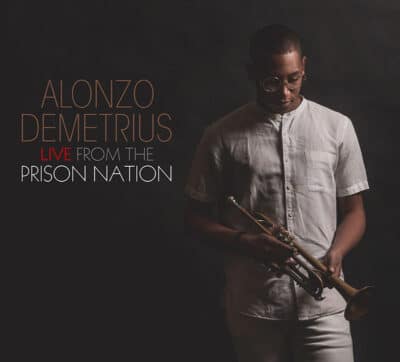 Alonzo Demetrius
Live from the Prison Nation
Onyx Productions
Trumpeter Alonzo Demetrius and his working band The Ego deliver, as you would guess from the title, a socially conscious album, recorded live this past May from Boston's Berklee School of Music. Demetrius is working on acclaimed drummer Ralph Peterson's label, and, as such is the first instrumentalist to record on it other than the owner. The drummer and composer served as a source of inspiration for Demetrius' work—while teaching Demetrius at Berklee College of Music, Peterson challenged his students to grapple with the social and political subjects that musicians often encounter. While Onyx Productions celebrates this release as the first of its kind, Demetrius will also celebrate his first album release as a bandleader. (Yes, yet another jazz debut on these pages). Joining Demetrius in his quintet, The Ego, are tenor saxophonist Yesseh Furaha-Ali, pianist Daniel Abraham Jr., bassist Benjamin Jephta, and drummer Brian Richburg Jr. Demetrius, a New Jersey native, has quickly gained renown as a composer and is uniquely recognized for his implementation of electronic processing.
Demetrius' appetite for an eclectic sound might better be described as a lifelong experimentation with jazz. At 8 years old, he began to learn the piano while accompanying his keystrokes with vocals. As he developed musically, Demetrius embraced his classic training in trumpet in wind ensembles, symphonic orchestras, pit orchestras, marching bands, big bands, and small jazz ensembles alike. His first experience as a bandleader was at the young age of 11 years old when he formed a jazz sextet.
Live From The Prison Nation is described as Demetrius' personal form of protest against the Prison Industrial Complex. "Inspired by the teachings of political activists such as Mumia Abu-Jamal and Angela Davis, as well as interviews with current and ex-convicted felons, I created this album as a reflection of my ideas based on personal experience and the experiences of other Black people in my life," says Demetrius. Amidst a global pandemic, the deaths of George Floyd, Breonna Taylor, and now, the shooting of Jacob Blake, have sparked a resurgence of the Civil Rights Movement. "60 years in the making, this movement has finally begun to take root in the hearts and minds of people all over the world. With this album I aim to continue the global conversation and provide a platform for those whose voices are often left out."
The endorsement of Peterson is certainly enough but Graham Haynes, son of jazz drummer Roy Haynes, also known for fusing jazz with elements of hip hop and electronic music, wrote the liner notes, saying this – "Being a black man in America myself, and playing the same instrument as Alonzo, I can certainly identify with what he needs to get across here. As with many within his generation he is quite aware of the many injustices wages against black people in America throughout our history here. He sample speeches by Angela Davis and Mumia Abu Jamaal to help him express his thoughts, and it is very timely…We all have a lot to learn from this young man and his art. Musically he is boundless, I hope that you enjoy this album as much as I do and understand on a deeper level the challenges that great young Black artists like Alonzo are faced with in this world of social and racial injustice."
The album is comprised of six tracks, all of which are originally composed excepting the second track, "The Principal." Demetrius' explorative patterns as a composer are evident as the political audio samples progress and become drowned by The Ego on the epic opening "Expectations" where he introduces the contested subject of prison reform through an audio clip of Angela Davis. While Davis raises her brow at the term "prison reform," Demetrius and The Ego overlap Davis's words with an instrumental variety, providing a greater volume to the very words that Davis is criticizing. "Expectations" is everything but deceptive, guiding its listeners through a framework of political rhetoric, a suspenseful opening sound, and a playful optimism represented through Demetrius's variation in pace and melody..
"This is what community looks like" a protesting crowd chants at the beginning of the album's fifth track, "Foo's Interlude." Shortly after, Demetrius sounds his trumpet to contrast the crowd's voices. Lengthy and somber notes are complemented by the rapid and lighter taps of Abraham Jr. and Richberg. Demetrius' interlude seamlessly transports the listener to the lengthy final track, "Foo Shit," a stronger declaration of community that is endorsed by the band's upbeat melody that transitions into a slow-to-fast solo by Demetrius. Saxophonist Furaha-Ali also takes an inspired excursion. Over the course of the album, the listener encounters the verbiage and sounds necessary to inspire contemplation and action. As "Foo Shit" closes out with the deep and soft notes of Demetrius' trumpet, listeners hold onto an essence of promise in a moment of political unrest.
Demetrius cites the historic Philadelphia Clef Club of Jazz as an influence for his present work. After two years spent at the club amongst other talented young professionals, Demetrius gained life-long friends and mentors. He will gain even more with this impassioned recording.