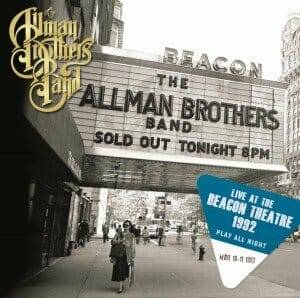 The Allman Brothers Band "Play All Night Live at the Beacon Theatre 1992" Epic Legacy
"Farewell to the Allman Brothers Band who'll end an era: October, 2014 at the Beacon in NYC."
The Allman Brothers final live shows are six sold-out performances scheduled in October at the Beacon Theatre, NYC. Four of these shows (Tuesday, October 21st; Wednesday, the 22nd; Friday, the 24th and Saturday, the 25th) are make-up dates from the band's upended Beacon residency in March when Gregg Allman was battling bronchitis. The (supposed) final two dates are Monday, October 27th and Tuesday, the 28th, which will truly mark an end to a spectacular era and one hell of an amazing run! With this in mind I thought it's finally overdue to review the two CD set (also from the Beacon Theatre) that Epic Legacy records released earlier this year. But this show was captured some twenty-two years ago with a slightly different lineup of musicians. Dickey Betts had departed from the band replaced by another exceptional guitarist Derek Trucks who doesn't sing.
Some may ask; do we really need another live Allman Brothers Band release? For most of us the answer is a resounding yes, as these Brothers were always artful with their improvisational skills, as few (if any) of their shows sounded or felt the same. It's why the band has consistently attracted an enormous fan-base. While there's been personnel changes over the decades, their format for success remained consistent; being spontaneous and always ready to switch gears and let the music take them wherever they wanted, sharing their musical gifts with their adoring fans.
This live set was taken from two shows of a ten-night run; it was also one of their (debatably) best versions of the post-Duane Allman era, though I preferred the one guitar of Betts and pianist Chuck Leavell post-Duane period. The band featured the guitars and vocals of Dickey Betts and Warren Haynes, Butch Trucks and Jaimoe on drums, percussionist Marc Quiñones, Thom Doucette on harp, the late Allen Woody on bass, and Gregg Allman's vocals, organ, piano and acoustic guitar. Just about all of their classics are covered opening with a jammy instrumental segment that's somewhat ruined when the emcee interrupts and announces; it's the Allman Brothers Band. Yet the band is unfazed and bounces into one of their anthems Blind Willie McTell's "Statesboro Blues." A spirited "You Don't Love Me" was next, followed by one of their new tunes "End of the Line." Betts resurrects his "Blue Sky" with vocal support from Haynes who roughly solos on slide guitar then Betts takes a somewhat short solo, not their best rendition. A new Betts tune "Nobody Knows" sung by Gregg, finds the band stretching out in double-digits (13:20) for the first time with a solid B3 solo from Allman, Woody's bass line flows as Haynes digs down with a heady guitar solo. The groove slows but not for long as Betts emerges with his first best guitar spot of the night, there's some torrid playing here as the Betts and Haynes exchanges are similar to a heavyweight boxing match. Betts and Johnny Neel's blues "Low Down and Dirty Mean" is such and finds Allman vocally displaying his keen blues vocal talents. Another Betts song "Seven Turns" finds the band stripped down and sitting down, and then they go into Gregg's "Midnight Rider." Closing disc one is Robert Johnson's "Come On In My Kitchen," with smart changes in tempos, plus tasteful guitar picking and soulful vocals by Allman and Haynes.
The second CD opens with "Guitar Intro/Hoochie Coochie Man" by Willie Dixon; Haynes' guitar intro is deep, heady, lengthy and sharp, eventually the band bursts into the tune (sounds edited) but it's a killer version. Initially it's all Warren on vocals and slide, then it's Betts time on an explosive and high-impact "Jessica," whew! Allman's "Get On With Your Life" is a reasonable blues replacement for "Stormy Monday." But this set turns immensely serious with a twenty plus minute interpretation of Betts' classic "In Memory of Elizabeth Reed." The band is now redlining on high-octane racing fuel with insane reckless abandon. More Betts with his "Revival" Gregg's vocals are strong and tireless, and Betts continues his guitar assault with impressive rhythmic support from Haynes axe. The closing vocal segment makes you feel their passion as their set concludes. But you (and I) knew there'd be more. One of my most favorite tunes: Gregg Allman's "Dreams" slinks into the night, these are not nightmarish dreams especially when Betts dials-in and takes everyone for a transcendental hypnotic ride, Haynes counters effectively but he's not as inspirational as Betts, and certainly no match for neither Duane's nor Derek Trucks' more awestruck and captivating guitar playing. Time to go home with Gregg's forever memorable: "Whipping Post." Instrumentally Haynes fires first and unloads powerfully, and then the band heads towards space as Betts grabs hold of the throttle and quickly lifts-off into the stratosphere like a shooting star. Gregg's vocal "Baby sometimes I feel like I've been tied to the whipping post," with another spacey instrumental passage until Allman finally opines "aha, good Lord I feel like I'm dying." And it's time to turn on the house lights.
Think about how much money tickets were going for Derek Jeter's farewell games in the Bronx, and compare that with what these final Allman Brothers Beacon shows might fetch? As a longtime Yankee fan I could never knock Jeter, but for my hard-earned dollars: I'd rather plunk down my greenbacks for one last opportunity to see and say goodbye to an American institution: The Allman Brothers Band. A band that battled through all kinds of tragedies, upheavals, conflicts and personnel changes, yet despite setbacks they were able to stand tall and somehow managed to endure through it all. Amen.
*Oh, last but not least: Let us never forget the producer of this and other momentous Allman Brothers recordings was the late great Tom Dowd.
For fifteen years Bob Putignano has been pivotal at WFDU with his Sounds of Blue radio show: www.SoundsofBlue.com – Previously a senior contributing editor at Blues Revue, Blueswax, and Goldmine magazines, currently the Music Editor for the Yonkers Tribune www.YonkersTribune.com and Making a Scene www.MakingAScene.org Bob was the 2003 recipient of the "Keeping the Blues Alive" award (given by the Blues Foundation in Memphis) for his achievements in radio broadcasting. Putignano can be contacted at: bob8003@yahoo.com