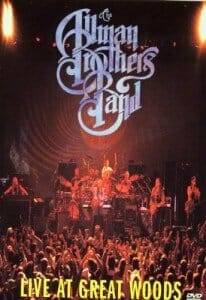 Allman Brothers "Live at Great Woods" DVD (2014 Edition) – Epic Legacy

The Allman Brothers reunited in '89 and were signed to Epic Records where they released five new (studio and live) albums over a span of about six years (1990-1995.) Five years later, Epic also issued "Peakin' at the Beacon" in 2000. During this time, Epic captured a live video performance at the Great Woods Amphitheater nearby Boston, MA which has previously been released but was flawed with band-member interviews during some of the performances. Fast-forward to 2014 with an updated editing of that same performance that now smoothly flows without interruptions. This '91 edition of the band features founding members Gregg Allman, Dickey Betts, Butch Trucks and Jaimoe with new additions Warren Haynes, Allen Woody and Marc Quinones.
The band performs well, but I found the chemistry between guitarists Betts and Haynes to be lacking with few dueling guitar segments and neither guitarist looked each other in the eyes. The video clarity is very good, though the camera work is sketchy and audio is very thin sounding especially on the bottom end. Eleven songs are included, eight of which are relatively short and only three songs login at over ten minutes "In Memory of Elizabeth Reed," "Jessica" and "Whipping Post."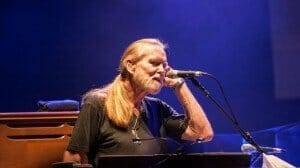 The show opens with (as expected) "Statesboro Blue" where I thought Haynes struggled with his slide playing, but both Betts and Allman are on the mark. Betts' "Blue Sky" catches fire though his voice sounds a bit ragged he's aided by background vocals of Allman and Haynes. The two acoustic songs "Midnight Rider" and the traditional "Going Down the Road" are very satisfying where it's interesting to watch most of the band seated, playing and harmonizing in front of the audience. Willie Dixon's "Hoochie Coochie Man" features Haynes' somewhat uncomfortable vocal as Betts strikes hard with a riveting blues guitar break. Allman's "Get On With Your Life" is a slow blues with Allman vocals which seems to be a new replacement for their heavenly covered "Stormy Monday Blues" and it's here that there's a little dueling guitar work between Haynes and Betts. Betts shreds the opening of his "In Memory of Elizabeth Reed" the longest track on this DVD (20:29). Haynes follows creatively and sharp, then Betts returns to counter Haynes wildly. The drummers get a good workout then the band returns to the theme with a quick ending. Betts' "Revival" sung by Allman is next, followed by Betts' instrumental "Jessica" (12:36) where there's nice interplay by the entire band that includes a funky passage that works neatly as the bolts fly from Betts' axe.
The band closes with their classic "Whipping Post" (11:41). Haynes erupts but Betts would not be out-shined as his guitar explodes with powerful bursts.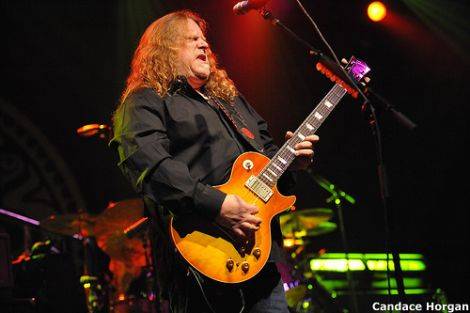 So there you have it, the liners state there's (approximately) 80 minutes of music here, but my clock and math say it's more like 90, which is fine by me. There are virtually no liner-note,s and what little there is are uncredited. Also missing is the producer's credit, but I would safely suspect that the great Tom Dowd parented these renegades on this fine night of music. Bottom line, would I call this DVD one of the best ABB performanc
es, no. But that doesn't take away from the fact that band made yet another lineup transition that worked remarkably well.
For 15 years Bob Putignano has been pivotal at WFDU with his Sounds of Blue radio show: www.SoundsofBlue.com – Previously a senior contributing editor at BluesWax, Blues Revue, and Goldmine magazines, and Music Editor for the Westchester Guardian. Putignano can be contacted at: bob8003@yahoo.com