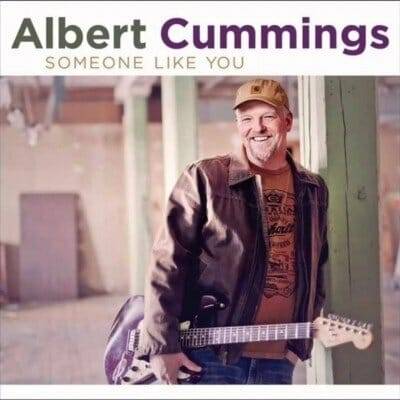 Albert Cummings
Someone Like You
Blind Pig Records
Albert Cummings is from Massachusetts. When he isn't playing the guitar he makes his living in the construction industry.
In 1999 Cummings recorded "The Long Way" with the band Swamp Yankee. In 2003 Cummings released his solo debut "From The Heart", for the Under The Radar Music Group, and it featured Double Trouble, the rhythm section of bassist Tommy Shannon and drummer Chris Layton, from Stevie Ray Vaughan's band. In 2004 Cummings signed with Blind Pig Records and released "True To Yourself" produced by Jim Gaines. Other Cummings albums on Blind Pig include my favorite 2006's "Working Man" and 2008's "Feel So Good". Cummings last album "No Regrets" was on the Oarfin label.
"Someone Like You", Cummings seventh album overall, marks his return to Blind Pig This time the producer is David Z whose production credits include Buddy Guy. They have assembled an all-star cast for this recording. The band is Cummings, guitar and vocals; the Grammy Award winning Mike Finnegan from Taj Mahal and The Phantom Blues Band, organ; the Grammy Award winning Tony Braunagel also from Taj Mahal and The Phantom Blues Band, drums; and bassist Reggie McBride whose credits include Stevie Wonder and Elton John. The background vocals are sung by Teresa James. Label mate Jimmy Vivino, the guitarist from The Conan O'Brien Show, guests on several tracks.
All of the songs were written by Cummings. A nice guitar riff opens "No Doubt" as Cummings is quickly joined by Finnegan on organ and the rest of the band. James is singing backup.
Guitarist Vivino guests on "I Found You"; on the slow blues "Little Bird" and again on the instrumental "Meatlocker". The guitar combo of Cummings and Vivino is dynamic. Finnegan's organ adds just the right amount of soul to the stew.
My personal favorites include "Movin' On". McBride's bass playing on this track is outstanding. "So Strong" is a poignant tune with a contemporary California sound and feel. Cummings solo dominates the mix. "Old Dog" contains the lyric "some people say you can't teach an old dog new tricks". Cummings' guitar bites like a Rottweiler. "Stay Away From My Sister" "and I'll stay away from you" is just a great song and it closes out this fine album. Throughout the recording Cummings proves himself a passionate vocalist.
Cummings has given us one of the best blues rock albums of the year. This recording should re-ignite the concert demand for this talented guitarist. Better give him a listen.
Richard Ludmerer
https://open.spotify.com/artist/1YYXyn4etM5oe9RnJe3Mvg