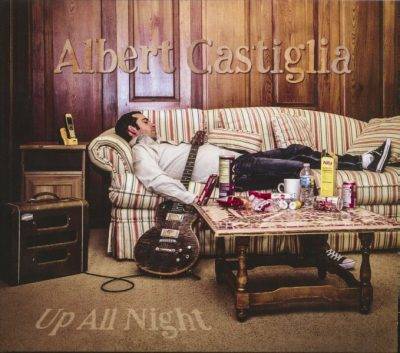 Albert Castiglia
Up All Night
Ruf Records
Albert Castiglia was born in New York City in August of 1969. Castiglia was only five years old when his Cuban American parents moved to Florida. Castiglia joined the Miami Blues Authority in 1990 and was named "best blues guitarist" by the Miami New Times. In 1996 Castiglia received a phone call from Junior Wells and became his lead guitarist. Castiglia toured the U.S. and Europe until Wells' passing in 1998. He then became the lead guitarist for Sandra Hall. Castiglia released his self-produced debut "Burn" in 2002. In 2005 he recorded "The Bittersweet Sessions" with Graham Wood Drout of "Iko, Iko".
Castiglia, by now the pride of south Florida's blues scene, signed with Joe Morabia and Jack Kreisberg's Bluesleaf Records in 2006. That label knew talent as they were also the first to record Janiva Magness. Castiglia recorded four albums for Bluesleaf including 2008's "These Are the Days". Castiglia received a Blues Music Award nomination for "Song of The Year" for "Bad Year Blues" the lead track off of that album. On June 23rd, 2011 Castiglia played to a capacity crowd of fans and relatives at New York City's Triad Theatre.
In 2014 Castiglia switched labels and signed with Ruf Records releasing "Solid Ground". Castiglia's 2016 follow up recording "Big Dog", produced by Mike Zito, resulted in him receiving two additional BMA nominations in the categories of "Rock Blues Album of The Year" and "Contemporary Blues Male Artist of The Year".
"Up All Night" is Castiglia's third studio album for Ruf Records and ninth album overall. The current band lineup is Castiglia, guitars and vocals; Jimmy Pritchard, bass; and Brian Menendez, drums. Additional musicians include producer/guitarist Zito; Lewis Stephens, keyboards; Sonny Landreth, slide guitar; and Johnny Sansone, harmonica. The album was recorded at Dockside Studios in Maurice, Louisiana.
Castiglia opens with some stinging guitar on "Hoodoo On Me" written by producer Zito who also contributes the fabulous slow blues "Quit Your Bitching". The album's title comes from "I Been Up All Night" written by New Orleans guitarist Brian Stoltz of The Funky Meters; it was first recorded by Stolz in 2003 on his solo debut "East of Rampart Street". The song is a great vehicle for Castiglia who utilizes a Wah-wah pedal throughout the production.
New songs penned by Castiglia include "Delilah" with Sansone on harp; "95 South" featuring Sonny Landreth on slide; and "Chase Her Around the House" about his coming home after a few weeks on the road.
Castiglia has also co-written four more songs and re-arranged another. Both the funky "Three Legged Dog" which may cause spastic dancing and "Knocked Down Loaded" come from him and his old friend Drout. Castiglia collaborated with Cyril Neville who wrote the lyrics for "Unhappy House of Blues" featuring both pianist Stephens and Sansone. The only cover is the re-arranged "Woman Don't Lie" written by Luther "Snake Boy" Johnson. The closer "You Got Me To That Place" was written with his bassist Pritchard.
It seems that Castiglia gets better with each of his recordings. "Up All Night" rocks from start to finish. This one should bring the big dog the bacon; a BMA.
Richard Ludmerer
[amazon_link asins='B0744MN1MJ,B01CDMMQ7C,B00HWI7XOY,B000EPFD12,B00BZIHFCM,B07487F8CL,B00BJZGADG,B00BZV2EH0,B074WDD4GH' template='ProductCarousel' store='maasc-20′ marketplace='US' link_id='19ff04a2-adf7-11e7-a15d-7d8922bbabb4′]