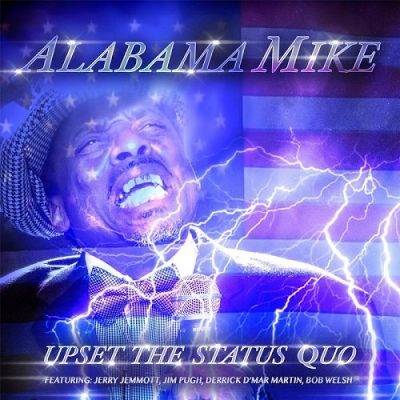 Alabama Mike
Upset The Status Quo
Greaseland Records
Michael Benjamin aka Alabama Mike was born in Talladega, Al. in 1964. At an early age his father encouraged him to sing gospel. After a hitch in the Navy he wounded up in the San Francisco Bay area. He developed a love for the blues but didn't start performing it until 1999. Mike released his first album "Day to Day" on his own Jukehouse Records in 2009. His tenor vocals and songwriting skills began to get noticed and he followed up with 2011's "Tailor Made Blues". As a result Alabama Mike was nominated for a 2011 Blues Music Award for Traditional Male Artist of the Year. He later formed an acoustic blues trio with guitarist Anthony Paule and harpist Scot Brenton called The Hound Kings. In 2013 The Hound Kings released their album "Unleashed" and it was nominated for a BMA as Acoustic Album of The Year; and became the second nomination for Alabama Mike. Mike has shared the stage with John Primer, Bobby Rush, Johnny Rawls, Willie "Big Eyes" Smith and many others. He has also played the Reno Blues Festival and The Pocono Blues Festival.
This is Alabama Mike's third album (under his name) and it was produced by Kid Anderson at his Greaseland Studios. The band includes Anderson, guitar and B-3; Bob Welsh, guitar and piano; Jon Lawton, lead and slide guitar; Jerry Jemmott (who has played with King Curtis, and Aretha Franklin among many others) or Kedar Roy, bass; Derrick D'mar Martin or Ronnie Smith, drums; Bernard Anderson, saxes; Aki Kumar, harmonica; Jim Pugh, Hammond B-3; and Sid Morris, piano. The background vocalists are Loralee Christensen and Lisa Leuschner Anderson.
Alabama Mike has written eight of the eleven songs included. "Upset The Status Quo" is the title track that opens this fine album and he does just that. Mike's church house tenor has a high register and a raspy quality that is perfect for the Blues. He reminds me of Joe Louis Walker. Welsh lays down a strong rhythm on his guitar while harpist Kumar, and Bernard Anderson on sax, take their solos. Then Lawton takes his guitar solo. "Mississippi" is another good song with great harp from Kumar as Alabama Mike spells it out M-I-S-S-I-S-S-I-P-P-I.
My favorite songs of Mike's are topical or autobiographical. On "Identity Theft" Jemmott establishes a bass line that sets up a fabulous groove for Bernard Anderson's sax. "Can't Stay Here Long" is about "when my daddy died", it's the story of going home to Alabama where everything seems to have changed "it seems like I don't know these people". Jemmott on bass and Pugh on the B-3 are perfect. "Restraining Order" is another of my favorites. Jemmott and Pugh set up a ska-like rhythm while Mike sings "she's crazy". On these Jammott is featured on bass. Anything that Jemmott is on is better because of it; he is that good.
"S.S.I. Blues" includes the lyric "all around the neighborhood everyone's on S.S.I." as Lawton's slide guitar kicks in. "Fight For Your Love" features Lawton again on slide guitar; while "Rock Me in Your Arms" was written by Lawton. These feature Roy on bass.
"Think" is from Jimmy McCracklin and Deadric Malone but not to be confused with "Think" as written and performed by Aretha Franklin.
"Somewhere Down The Line" was written by Little Johnny Taylor and again features Jemmott and Pugh.
"God is With You (Benediction)" contains the lyric "I want you to take the lord with you everywhere you go". It closes out this fine album and Jemmott and Pugh are once again featured.
With the passing of time we loose our icons; those traditional artists that influenced generations. It's nice, once in awhile, to find someone like Alabama Mike who will carry on these traditions.
Richard Ludmerer