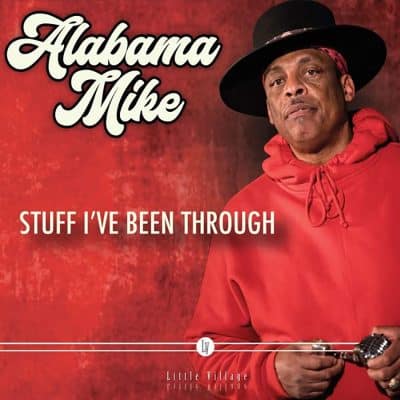 Alabama Mike
Stuff I've Been Through
Little Village
Blues fans should recognize the name of blues vocalist Alabama Mike, as he has guested on Little Village and other label recordings in recent years. Nonetheless, for many, Stuff I've Been Through, his fourth album, may well be his coming out party. Despite the "Alabama" moniker, (Mike hails from Talladega, AL) the artist has lived in the Bay Area city of Richmond, CA for the past 25 years so he is well acquainted with producer "Kid" Anderson's Greaseland Studios and the gang at Little Village. This is where most of the blues goes down in the Bay Area. Consequently, Jim Pugh handles the keys, Jerry Jemmott is the bassist, and Derrick "D'Mar" Martin is the principal drummer. Other familiar names gracing the credits are guitarists Rusty Zinn and Anson Funderburgh, each playing on one track, harmonicist Rick Estrin, horn man Mike Rinta, and background vocalist Lisa Leuschner Andersen, among the credit list that numbers 23. "Kid" Andersen, in addition to playing guitars, produced, recorded, mixed, and mastered the album. Nine tracks were recorded at Greaseland, with the last two live performance tracks – "Mississippi" at the Poor House Bistro in San Jose, CA and "God Is With You" in Basel, Switzerland.
Alabama Mike is all about songs, using modern themes that reflect his personality and mixing in current speak with a few typically overused blues cliches. Musically he likes to mix it up from straight-ahead tradition to more contemporary street funk as well as R&B, with gospel being the strongest foundation of all. There's a dichotomy at play here – swagger and confidence on one end and humility and respect for a higher power on the other, the latter apparent in the closing track.
The horn slathered title track kicks off with Alabama sharing his scarred history, all of which has made him a better man. He takes this proud self-identity further in "Fat Shame Pt. 1" and "Fat Shame Pt. 2," shucking off any ridicule about appearance with the kind of masculine bravo long associated with the blues ("I ain't gonna let you fat shame me"), even those these tunes are rendered in a half rap, half street funk manner, with the punchy four-piece horn section, again holding sway, with Bernard Anderson on the tenor sax lead. The spoken word also plays into his introduction to "This Ain't No Dizneyland," explaining that all of California isn't nearly as glitzy as often portrayed. Now that all the major professional sports teams have vacated Oakland, this contrast between the two sides of the Bay with his references to skid row and shopping at the 99-cent store are now in clearer focus.
Alabama Mike puts the social commentary aside as he turns a bit more conventional in the Al Green-like, background vocals assisted "Goodbye Tamika" and one that plays off those age-old blues cliches of "Little Red Rooster" and king of the barnyard in the funky "King Cock" (a title we could do without by the way). "Pine Bluff, Arkansas (Big Fine Woman)" is a contemporary update of sorts to such vintage material as "Big Legged Woman" as Alabama Mike describes the woman directly and fondly at the same time. "Woman on the Warpath" is a raveup where he emits some anger, all the while smirking as he does do. As we listen, there's a bit of the late Z.Z. Hill's vibe in many of those half spoken, half sung tunes, the prime example being "Damage Control," which sounds as if it belongs in the Malaco catalog.
As mentioned, the album ends with two live tracks. Rick Estrin's harmonica infuses the energetic shuffle "Mississippi" but Alabama Mike saves his best vocal for the gospel closer "God Is With You." Good gracious; he sounds like Al Green is his gospel prime. From the streets to the church, Alabama Mike is a major personality who will be an important fixture in the blues world for years to come with Stuff I've Been Through representing a big step forward. Little Village scores again.
Help Support Making a Scene
Your Support helps us pay for our server and allows us to continue to bring you the best coverage for the Indie Artists and the fans that Love them!
Make a one-time donation
Make a monthly donation
Make a yearly donation
Choose an amount
Or enter a custom amount
$
---
Your contribution is appreciated.
Your contribution is appreciated.
Your contribution is appreciated.
Donate
Donate monthly
Donate yearly
You can donate directly through Paypal!
Subscribe to Our Newsletter