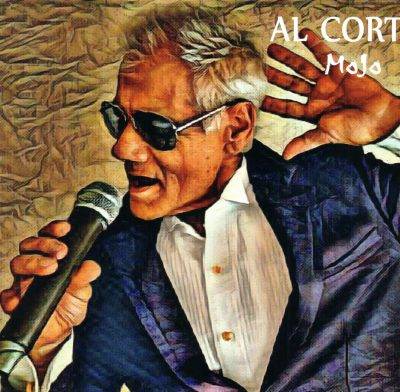 Indie Blues CD Review
Al Corte
Mojo
Independent
Al Corte is originally from Buffalo, New York. He began singing acapella with his high school buddies in a Doo-Wop group. Corte's first professional gig was with a local band called "The Cavemen". They recorded a song Corte wrote and wound up opening for the Young Rascals, The Hollies, Chuck Berry and Jerry Lee Lewis. After the family moved to Florida he sang with numerous bands including "Hot Ticket"; "Good Vibrations"; a jazz fusion group "Nebula", and "Streetplayer". He also had a brief career as an actor. In 2009 Corte retired and moved to Arkansas.
Corte returned to performing and recorded his debut album in 2015. "Seasoned Soul" was a soulful rhythm and blues cover album that included songs by Little Milton, Otis Rush, Albert King, James Brown and others. The album was voted best self produced cd by the Memphis Blues Society.
The band on "Seasoned Soul" included pianist Ron Miller whom is also a prolific songwriter. Miller worked with producer Norbert Putnam and also played bass with Tony Jo White. While a Nashville session musician he worked with Johnny Cash and Tammy Wynette. In 1983 Miller toured with Leon Russell and co-authored a few songs with him. In 1989 he became a staff writer for MCA Records. He continues to write and perform.
"Mojo" is Corte's new album featuring twelve new songs written by Miller; three of them with Corte. Vocalist Corte is impressive as he sings lead on all of the songs. It was produced and recorded by Lawrence "Boo" Mitchell at his Royal Studios in Memphis. The album is a royal affair as it includes The High Rhythm Section with the Reverend Charles Hodges, organ; Michael Toles, guitar; Leroy "Flick" Hodges, Jr., bass; and Steve Potts, drums. The background singers are Candice Rayburn, Sharisse Norman, and Stefanie Bolton. The horn section consists of Jim Spake, tenor sax; Kirk Smothers, baritone sax; Lannie McMillan Jr., tenor sax; and Marc Franklin, trumpet and flugelhorn. The string arrangements are also written by Franklin.
Brad Webb, who from 1995 to 2003 recorded four albums with Blind Mississippi Morris, plays slide guitar on "I'll Never Loose My Love for the Blues" co-written with Corte. John Nemeth harmonica, guests on both "Juke Joint Jive" and "What You Hold".
Producer Mitchell plays Grand piano on "We're Just a Boy and a Girl" and takes a Synthesizer solo on "Touch"; while songwriter Miller sits in on piano on "I'm Ready" and takes a guitar solo on the title track "Mojo".
By the end of listening you will come to the same conclusion as I did. Corte is a great vocalist.
Richard Ludmerer
[amazon_link asins='B076Q3RXMD,B076Q4B5C2,B076Q4M461,B076Q5CQV7,B076Q5VHMS,B076Q5F1C9,B076Q5BB37,B076Q51M33′ template='ProductCarousel' store='maasc-20′ marketplace='US' link_id='7cb6ae61-bff1-11e7-9b1f-69482ad4b38a']