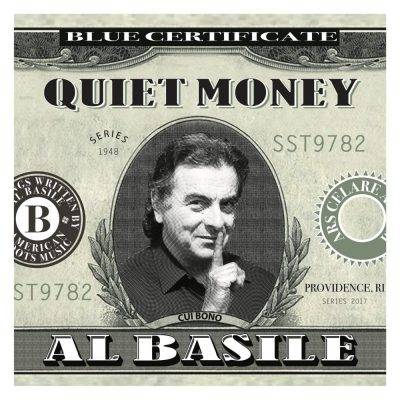 Al Basile
Quiet Money
Sweetspot Records
Al Basile grew up in Haverhill, Massachusetts a suburb outside of Boston. He received a Master's degree from Brown University in 1970. He first met Duke Robillard in 1969 and Robillard talked Basile into joining Roomful of Blues in 1973. Basile became Roomful's first trumpet player and while with them he played with Eddie "Cleanhead" Vinson, Red Prysock and Big Joe Turner. Robillard and Basile both left Roomful in 1975. Basile became a teacher but they remained friends and Basile's songs began to appear on Robillard's albums for Rounder, Stony Plain, Pointblank, and Shanachie. Basile's songs have been used in television, film and have also been recorded by Ruth Brown and Johnny Rawls.
Recently Basile was musical director for The Knickerbocker All-Stars 2015 project "Go Back Home to The Blues". The experience was a deja-vu as Basile re-connected with the Roomful of Blues alumni and the vibe they created. Basile is a 7 times Blues Music Award nominee; six times for Best Instrumentalist – Horn and another 2017 nomination for his last album "Mid-Century Modern" in the category of Contemporary Blues Album of The Year.
This is Basile's fourteenth studio recording all of them produced by Duke Robillard. Basile states that he "went into full nostalgia mode for my old Roomful of Blues days when I wrote this group of new songs". There are thirteen new songs. The band on "Quiet Money" includes Basile, vocals, cornet and horn arrangements; Robillard, guitars; Mark Teixeira, drums; Brad Hallen, bass; Bruce Bears, piano; Jeff "Doc" Chanonhouse, trumpet; Rich Latille, tenor sax; and Doug "Mr. Low" James, tenor and baritone saxes. The album is recorded by Jack Gauthier at the Lakewest Recording Studio in West Greenwich, Rhode Island.
"Blues Got Blues" contains the lyric "you can't draw a crowd unless you play it too damn loud…it keeps getting harder to make it pay, clubs are giving up the fight, cause older people ain't going out at night…why do people think you oughta play for free….Blues got blues today". Basile takes a great cornet solo followed by a solo from producer/guitarist Robillard.
"Sometimes It's Wrong to Be Right" sung like one who's learned "you might win the battle but loose the war". "If you want to keep the game alive sometimes it's smarter not to win". I love Basile's solos and he takes a beauty here. "Line By Line" is a sensitive bit of verse and one of my favorites "we lost touch years ago, I thought of you today."
"Quiet Money" is the title track. "I tried talking to the prez just the other day, he said I'd like to chat son but I can't stay, it's too lonesome here, I'm going where all the faces look like me". "Follow the money, see where the money goes, follow the money, see what the money knows". "Do You Even Know…when your tellin' lies".
"Age may be just a number but the number's getting high, exactly when my number's up no one can really say, but Not Today, please lord not today." The horn section of Basile, Chanonhouse, Latille, and James are fabulous throughout the recording. Guitarist Robillard's rhythm and lead playing are equally fine.
Basile is often called the "Bard of the Blues"; he is part poet, part singer/songwriter, and a communicative musician who's playing is rich and succinct. I love that his vocal timbre and horn sound similar. Basile's sound is just as identifiable as any of the great ones. This is his best yet.
Richard Ludmerer
[amazon_link asins='B075DSW64J,B011EK2IGS,B000FCUYMC,B00IZ7ZESS,B01GOXB3KW,B008SVRTUW,B00K5P34TO,B002G5FLLU,B0014FQLJ4′ template='ProductCarousel' store='maasc-20′ marketplace='US' link_id='4a4ec254-a7a4-11e7-aa17-b345576601ef']