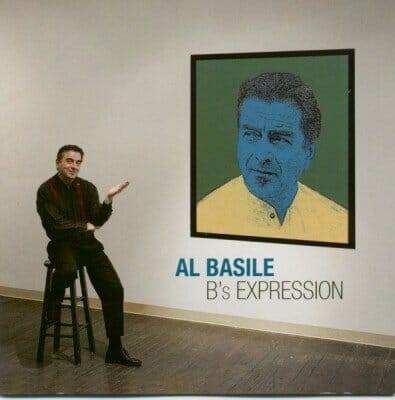 Al Basile
B's Expression
Sweetspot Records
Al Basile first met Duke Robillard in 1969. Robillard talked Basile into joining Roomful of Blues in 1973, and Basile became Roomful of Blues' first trumpet player. While with them he played with Eddie "Cleanhead" Vinson, Red Prysock and Joe Turner. In 1975 he left to become a teacher but continued to work in the New England area and played with Clarence "Gatemouth" Brown, Johnny Johnson and others.
After Robillard left Roomful of Blues Basile's songs began to appear on Robillard's records for Rounder, Pointblank, Shanachie, and Stony Plain. His songs have been used in television, film and have even been recorded by Ruth Brown. Robillard and Basile have remained friends throughout the years as Robillard has produced all of Basile's records. This is Basile's twelfth recording.
The band on this recording is Basile, vocals and cornet; Producer Robillard, guitar; Bruce Bears, keyboards; Brad Hallen, bass; Mark Teixeira, drums; Doug James, tenor sax; and Carl Querfurth, trombone. All of the above are former or current members of The Duke Robillard Band.
Basile goes by the nickname the "Bard of The Blues". He is both a poet and a songwriter. All of the horn arrangements are by Basile as he charts his music. Basile's cornet and vocals blend together with similar tones.
The album opens with "Whole Lot of Good Good Lovin". The horns are arranged in a Memphis style. Robillard takes an understated guitar solo. Basile takes a fabulous solo on his cornet.
"It Wasn't That Good" is about a relationship that just wasn't meant to be. Included is the line "It coulda' been worse". Bears' is featured on the organ. "Not Like I Do" features the horns of James and Querfurth punctuating the lyrics. It's not a ska sound but similar to one. Basile takes another solo. "Don't You Ever Get Tired of Being Right" is my own personal favorite.
On "I'm Running Late" and throughout the remainder of the album Basile's beautiful cornet solos and vocal stylings continue to bring us something new.
This is a very relaxing album that connects blues and jazz. It is totally original and one of Basile's best.
Richard Ludmerer