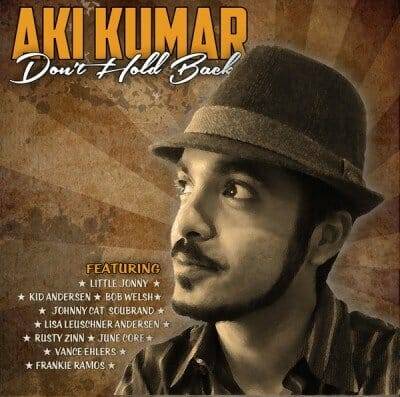 Aki Kumar
Don't Hold Back
Greaseland Records
Aki Kumar, born in Mumbai, India aka Bombay, is a San Jose, Ca. based harmonica player. His performance credits include playing with the band "Tip of The Top"; Rockin' Johnny and Tommy Castro. This is Kumar's first studio recording. The album is co-produced by Kumar and Kid Anderson and recorded at Anderson's Greaseland Studios in Campbell, California.
Kumar and Anderson have assembled an all-star cast for this recording. The band members are Kumar, harp and vocals; and three guitarists including Little Johnny Lawton; Johnny Cat Soubrand from The Terry Hanck Band, and Rusty Zinn from Mark Hummel and The Blues Survivors. Also included are pianist Bob Welsh from The Elvin Bishop Band; drummer June Core from The Charlie Musselwhite Band; saxophonist Frankie Ramos; bassist Vance Ehlers; and background vocalist Lisa Anderson. Co-producer guitarist Kid Anderson also guests.
Selected covers include the opener "Judgement Day" from Snooky Pryor; Hank Ballard's "Hoochie Coochie Coo"; the Slim Harpo instrumental "Buzzin'"; Jimmy Reed's "She Don't Want Me No More" with Anderson sitting in on guitar; a revved up version of Charles Brown's "Drifting Blues"; Little Walter Jacob's "Blue Baby"; Willie Dixon's "I'll Get You Too"; and Magic Slim's "Wish Me Well". "Freight Train" is based on a traditional tune, rearranged and credited to Lawton.
Kumar contributes three originals. The title track "Don't Hold Back" featuring Ramos on sax; "Let Me Get Closer" and the instrumental "Mumbai Express".
While closing out the recording Anderson is heard in conversation with Kumar and encourages him to sing "Ajeeb Daastaan Hai Yeh" which means "A Strange Story". It's an old Indian pop song once featured in a Bollywood movie; the Hindi language film equivalent to our Hollywood. Anderson provides a nice guitar intro for this beautiful tropical melody.
Kumar possesses a very pleasurable tenor voice that is heard throughout the recording. However it's Kumar's command of harp styles that makes "Don't Hold Back" a great album. If you like blues harp you will love Kumar.
Richard Ludmerer