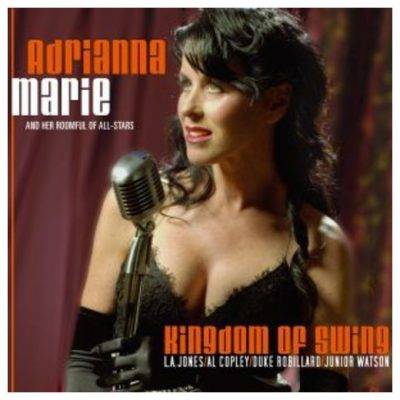 Adrianna Marie
Kingdom of Swing
Vizztone Label Group/Barking Blues Music
Adrianna Marie Hansen grew up in a musical family and left Westport, CT. for California when she was seventeen. She and her husband, guitarist L.A. Jones, now live an hour and half from Los Angeles. She recorded a demo called "Spellcaster" just to get her feet wet. Adrianna appears on The Mannish Boys 2012 album "Double Dynamite" singing backup on two tracks. Then in November 2013 Adrianna Marie and Her Groovecutters released "Double Crossing Blues" and she received a 2014 Blues Music Award nomination as "Best New Artist Debut".
This is only Adrianna's second studio recording and for it she enlisted Duke Robillard as producer. The band is being called The Roomful of All-Stars and includes Adrianna, vocals; L.A. Jones (the initials standing for Little Albert as he plays like Albert King), guitar; Al Copley, piano; Kedar Roy, bass; and Brian Fahey, drums. The Roomful Horns include Doug "Mr. Low" James, baritone sax; Rich Lataille, alto & tenor sax; Doug Woolverton, trumpet; Mark Earley, tenor saxophone; and Carl Querfurth, trombone. Guesting are Bob Corritore, harmonica; and guitarists Junior Watson and Producer Robillard.
Adrianna has written five songs and co-written another with her husband. "The Kingdom of Swing" is her story and the song opens with the horns and Copley tinkling the ivories. As soon as you hear Adrianna you'll know why she's called The Spellcaster. Querfurth takes a trombone solo before Jones comes in on guitar.
The five piece horn section begins "Sidecar Mama" with Woolverton's trumpet dancin' over them. Once again Copley sounds great; this time its "Mr. Low" who takes a baritone sax solo. The horn arrangement is by Blake Martin. "3 AM Blues" features another tenor solo from Earley and some fine guitar from Jones. "Gimme A Roomful" co-written with Jones features Duke on guitar and solo's by Lataille and Earley. On "Memphis Boogie" Lataille takes another turn as does Querfurth; Roy takes a solo on bass. "Baby I Got You" features solos by Earley, Latielle, Jones, Copley and Woolverton. The horn arrangement is from Michael Czaja.
"Better Beware" is the first of eight selected covers. It was composed by Johnny Otis and sung by Little Esther in 1951. Jones' guitar tone and solo are fabulous. Earley takes a tenor solo before Woolverton takes his.
"Mood Indigo" is the classic Duke Ellington song and Jones plays some jazzy guitar. Adrianna gets sultry. Lataille's alto solo is followed by one from Querfurth. The horn arrangement by Czaja is just fabulous.
"Drive Me Daddy" is a sexy number that was written and first recorded by Helen Humes in 1946. Corritore on harp takes an extended solo. Jones plays some slide.
"Jump With You Baby" is from B.B. King and was first recorded in 1955. Watson is featured on guitar along with Jones. Each of the members of the horn section get to take a short solo and they and Jones become backing singers on the chorus.
"The Blues Are Brewin" was recorded by Billie Holiday in 1958. Copley's piano is perfect. This is best heard with some single malt Scotch as Woolverton takes the first solo followed by Earley; then it's Jones.
"One Sweet Letter" was written and recorded by Joe Liggins on Specialty Records in 1951. "T-Bone Boogie" is from T-Bone Walker and was waxed on Rhumboogie Records in 1945.
The instrumental "Blues After Hours" also known as "After Hours" was written by Avery Parrish in 1940. Jones is featured on guitar.
Adrianna Marie's future shines bright. Robillard is one of the best producers in the business and her Roomful of All-Stars live up to their name. This is highly recommended listening.
Richard Ludmerer
Products from Amazon.com
‹
›