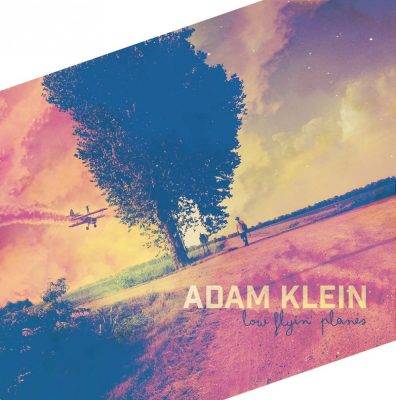 Adam Klein
Low Flyin' Planes
Cowboy Angel
Athens, Georgia has long been a spawning ground for great music. Beyond the more widely known names like REM and Widespread Panic, are some exceptionally talented roots musicians like Adam Klein. This is Adam's seventh album, the. sonic follow-up to 2013's Sky Blue DeVille. Like that one and 2015's Archer's Arrow, Low Flyin' Plane is produced by longtime collaborator Bronson Tew and features Crash Cason on guitar, Matt Patton (Drive-By Truckers) on bass, Eric Carlton (Jimbo Mathus) on keys, and other tasteful players delivering ten new songs colored by Klein's warm and engaging voice. Tew also works with music shaman Jimbo Mathus, so he brings impressive players from the Oxford, MS scene to the session as usual.
Klein says, "This feels like the final chapter in a trilogy of records I've made with Bronson," Klein says, "although we're already on to the next one together as well." "To me, Low Flyin' Planes is the sonic follow-up to Sky Blue DeVille. I think it's a natural progression." These are strong folk rock songs with a tapestry of lush layers of pleasing, often dreamy lush, textured sounds.
The songs stem from an extended period in which Klein, a world traveler (he's done work with African musicians too) found himself stationary– working random jobs in the Atlanta film industry and generally hustling for an income. "I was missing both the excitement and stimulation of travel and the time and space to slow down and orient myself toward songwriting and other creative efforts," he says. "I wanted to be surprised and energized by new experiences."
The longing for movement and growth is felt immediately in the opening "To the Birds" (which asks, "Will I never leave?/ Am I here to stay?/ Will the open road/ the one I rode/ ever come back my way?" The liberating feeling of the opne raod and the mention of the iconic Highway 61 is at the heart of "Crossin' Texas." In "Dog Days" the theme is prevalent but in a different way as he replays his favorite traveling images in his mind instead.
Klein is striving to stay alert, energized, disciplined, driven, and inspired. He knows all too well how easily we can be distracted as echoed to the stark title track ("And we turn it all on a dime/ no rhyme or reason"). Kell Kellum's pedal steel is especially lyrical and mournful here. As we've come to know Klein, there are story songs too. The chorus of "Lead Guitar" finds Klein performing solo in a coffee shop longing for the full band presentation of his songs but he references running out of gas on I-20 after a show and walking nearly eight miles with Tew in the middle of a cold night before being picked up by the police and driven to the nearest gas station (22 miles away!). He also related about being detained and interrogated with Cason in Calais, France, upon trying to enter the UK for a tour without the proper work permits.
The melancholy mood of the title track quickly shifts to an Elvis-Costello like jangly pop for "Too Cool for School." The fun and light side is present in the rocking "Look Out (Doraville)" where Klein greets his new home in metro Atlanta, is imbued by Hank West (Squirrel Nut Zippers) on sax. "Spent", the brooding closer ends with a stanza filled with references to songs of the late great Athens songwriter Vic Chesnutt. The life of a hard scrabble musicians is summed up with these lyrics: "Spent all my money/ spent all my time/ spent all my favors/ spent all my rhymes".
The album feels casual and mellow but closer listening reveals numerous deep existential questions of life and a continual search for what's most important. Klein is an advocate of sticking with your passion as stated in "Spent": "… there's no way to squelch this fire burning within." Since writing and recording these songs, Klein became a father and had a chance to enjoy nearly two years of the growth of his daughter. He says, "My hope for each of us is that we get the time and ability to keep moving forward and live our way into the people we want to become."
"The songs of Low Flyin' Planes speak to these notions. Whatever degree I have fallen short of fulfilling these goals in my
It's confounding in this crazy music biz why Klein, like far too many others, is underrecognized. He is a terrific songwriter and his music is like ear candy few can match. This is another gem. Dig into his catalog. Guaranteed – you won't be disappointed.