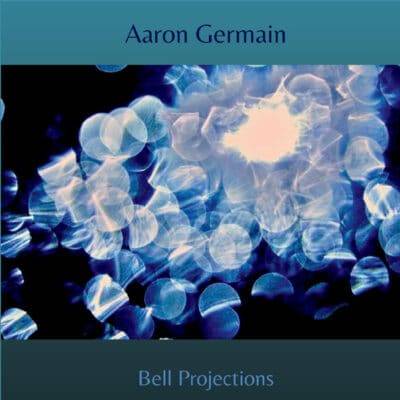 Aaron Germain
Bell Projections
Aaron Germain Music
This is a one-of-a-kind for this writer and maybe for any artist as the versatile Bay Area musician Aaron Germain who typically plays bass, delivers 17 compositions for guitar quartets and plays every guitar part himself. He does have accompanying musicians who appear in various configurations across the album, but he has indeed done most of the heavy lifting here, so much so that the eight-year gap since his last album Chance is explained by Germain studying the guitar quartet repertoire, writing the complex music in four parts, then learning and recording those parts on the various guitars and bass. He employs acoustic and soprano guitars, electric and upright bass, and guiro.
It helps that Germain is well-versed in many styles ranging from straight-ahead jazz and fusion to salsa, Latin Jazz, and Brazilian music. He broadened that scope for this effort by listening to Brazil's Quarteto Maogani and Ireland's Dublin Guitar Quartet, a contemporary ensemble inspired by Steve Reich and Philip Glass – the basis for prog rock. But the major inspiration came from buying an acoustic guitar from a German luthier, tuned down an octave and designed for chamber music settings. That same luthier made his soprano guitar, and his standard guitar was made by luthier in New Mexico. During these searches Germain was feasting his ears on classical guitar quartet music too.
Collaborators include multi-reedist Paul McCandless (Oregon), flutists Nester Torres, Chloe Jane Scott, and Mary Fettig, drummers David Rokeach, Deszon X. Claiborne, Jeff Marrs, and Celso Alberti. Percussionists are Michael Spiro, Carlos Caro, and Ami Molinelli. Most of these tunes run three to four minutes so there is little improvisation, understandable since Germain's goal was to produce written work. In that vein, he sets the scene, develops a sketch of short story, and then quickly gets out. Astute listeners can sense his flair for improvisation, nonetheless. After all, this is an artist that has played in countless jazz settings.
The project begins with "Toitoisho," a gentle melody dedicated to his father-in-law, played on twin soprano guitars (with a standard guitar, acoustic bass and drums) that serves as a bright opening for what follows. Immediately though he introduces an entirely different sound with "Breathmarks," with a finely measured balance between the low and high end as flutes from Torres and Scott soar above the leaders four guitars, imbued also by Michael Spiro's handling of cajon and guiro. The Latin feel emerges in "El Abrigo Naranja" with Carlos Caro providing the percussion. (Note: because we know that Germain is playing four guitars, we will refrain from detailing each type for fear of tedium moving forward). "Fios Cruzados," a Brazilian track is buoyed by Marco Pereira's pandeiro. "Galope" is another Brazilian piece, this time colored by McCandless' soprano sax over the percolating rhythms of the Brazilian percussion team of Celso Alberti and Alex Calatayud.
McCandless is on his signature instrument, the oboe, in a duet with Germain on the electric six string bass for "Hush," a standout track. "Dover Preach" and "Admiral Drive" reveal his dazzling work on the upright bass. Two other flute pieces appear in the second half – "Gutter Sass" with Scott and "Sublimation" with Fettig, both animated and highly melodic. The steady "Slip Task" creates some different textures with Michaelle Goerlitz on udu and bendir. Germain goes solo on the last three pieces, two of which have his usual four guitars at play. "Sky Nickel" reflects the random patterns of raindrops while the closing "SubEthos" may remind some of the other famous Oregon member, guitarist Ralph Towner's solo work.
Rest assured this is quiet, contemplative, calming music so you need to find the right time for it. When you do, you can't help but be struck with the brilliance of Germain's writing and playing. He has quite a legacy too which you read about by visiting www.aarongermain.com. One of the salient things you'll learn is that he was hired at age 19 by Yusef Lateef.
Help Support Making a Scene
Your Support helps us pay for our server and allows us to continue to bring you the best coverage for the Indie Artists and the fans that Love them!
Make a one-time donation
Make a monthly donation
Make a yearly donation
Choose an amount
Or enter a custom amount
$
---
Your contribution is appreciated.
Your contribution is appreciated.
Your contribution is appreciated.
Donate
Donate monthly
Donate yearly
You can donate directly through Paypal!
Subscribe to Our Newsletter
Find our Podcasts on these outlets