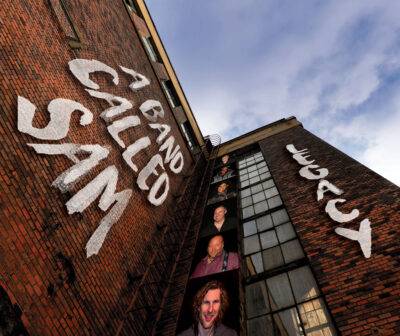 A Band Called Sam
Legacy
Highlander Records
Guitarist, vocalist, songwriter and bandleader Samuel Willis Taylor, Jr. a.k.a. Sam "Bluzman" Taylor was born in 1934 in Crichton, a suburb of Mobile, Alabama. He was the son of jazz and blues saxophonist Sam "The Man" Taylor, but was raised by his mother a vaudevillian. They moved to Brooklyn and as a child he began singing in church; later he trained as a boxer while serving in the Air Force on Long Island. After leaving the service Taylor decided to pursue a career in music. Taylor released his debut album "The Tunnels of My Mind" in 1969; before relocating to Santa Monica, California where he first formed "A Band Called Sam".
A prolific songwriter Taylor wrote songs recorded by the funk band B.T. Express, Freddie King, Jackie Wilson, Jimmy Witherspoon, Esther Phillips, Brook Benton, Joe Tex, and the Beach Boys. He was a bandleader and guitarist for Big Joe Turner, The Isley Brothers, Tracy Nelson, and Sam and Dave. As a vocalist Taylor backed Maxine Brown when she played the Apollo in 1959, and toured the UK with Joey Dee and The Starlighters in 1962 when they had the hit "Peppermint Twist". He also sang with The Drifters and The Rascals. After Otis Redding died in 1967 he worked with producer Steve Cropper and provided the whistling on "(Sittin' On) The Dock of the Bay". After his son Bobby Taylor's death, he returned to live in Central Islip, Long Island.
Overall Taylor recorded twelve blues albums including 2004's "Voice of the Blues". Taylor once said "People think 'cause you play the blues, the music is going to be something that makes you feel bad. Nah. The blues takes your blues away; it lets you know there is someone out there going through the same things you are. It's a music of feeling. It can't cure your ills, but you'll leave feeling better. I promise you that."
The current band line-up on "Legacy" is Sam's daughter Sandra Taylor lead and background vocals; Sam's grandson Lawrence "LAW" Worrell, who has traveled the world with his father Bernie Worrell, lead, rhythm guitar and vocals; Gary Sellers, rhythm guitar; Danny Kean, keyboards; Richie Cannata, tenor sax; Gary Grob, bass; Mario Staiano, drums; and Angela Canini, lead and background vocals.
The band plays nine of Sam's originals. They open with Sellers' guitar intro on "Voice of the Blues", first recorded in 1995, it was the title track off that aforementioned 2004 album. Interestingly Staiano, Grob, Kean and Sellers are featured on one of the album's tracks. Having been former members of "A Band Called Sam" they are re-united on this inspired tribute; Sam's daughter Sandra sings lead. "Next in Line", is reprised from The Sam Taylor Blues Band's 1995 album "Bluzman"; the lead vocal being shared between Sandra and Angela.
"Good To Ya" was written for the B. T. Express. Originally called "Everything Good To You (Ain't Always Good For You)" appeared on the Brooklyn band's debut released in 1974. Although never released as a single the song has been heavily sampled by rap artists. The lead vocal is sung by LAW. "Hole in Your Soul" and "Nothing in The Streets" sung by Sandra are also reprised from that 2004 album. Throughout the recording Kean plays keyboards, and creates the horn parts on his Synthesizer.
"Mother Blues" is reprised from Sam's 1995 album "Desert Soul". On "Devil in Your Eyes" Sandra and Angela are wonderful. "Funny" was written by Sam for Maxine Brown, a soul singer; the song reached #3 on the R n' B chart in 1961.The eighty-one-year-old Brown shares the lead with Sandra; Kean plays piano, before Cannata takes his sax solo. The closer "Stinger" was the lead track on Sam's 1969 debut album; LAW now sings the lead, "meet the Stinger, my name is Sam", while also playing lead guitar.
The former and current members of "A Band Called Sam" are among Long Island's best musicians. This is a fabulous recording and hopefully the first of many as Sam Taylor wrote hundreds of songs.
They are keeping the music of Sam Taylor alive.
Richard Ludmerer