2016 Festival International Du Blues De Tremblant "23rd Edition" July 8 – July 17, 2016 Mont-Tremblant, Quebec www.TremblantBlues.com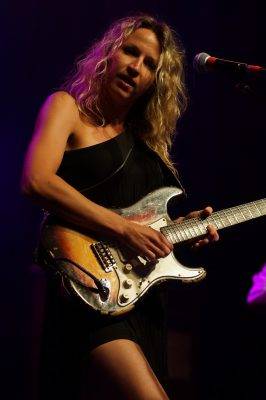 2016 was the twenty-third edition of the Festival International Du Blues De Tremblant. For nearly two and a half decades this Festival has been assembling annual Blues performances that are equal to the best Fests in world. This year's headliners featured national USA performers such as: Ana Popovic, The Backtrack Blues Band with Kid Royal, Big Sam's Funky Nation, Delgres, Diunna Greenleaf, Ghost Town Blues Band, John Nemeth, Jonathan Tyler, Kenny "Blues Boss" Wayne, and Nikki Hill. From across the Atlantic; Heymoonshaker, Ian Seigel, Jack Broadbent, and Matt Schofield were all imported from the UK
As always there was a fine assembly of immensely talented Canadian bands: Adam Karch, Andrea Simone, Angel Forrest's Angel's 11, Barb Diab, Ben Racine, Bob Walsh, Boopin Blues Band with Mike Goudreau, Carl Tremblay, Carson Towney Band, Charlie A'Court, Colin Linden, Conor Gaines & the Ramblin Moon, Dawn Tyler Watson, Dione Taylor, Fredy Freedom, Gregory Charles, Henri Breton, Jack Chisholm, Jim Zeller, Jimmy James, John Campbelljohn, The Joint Chiefs of Soul with Lance Anderson, Justin Saladino Band with (from Chicago) Jerimiah Rogers, Kevin Mark, Larue-Deway, Leboeuf/Deschamps, Les Grandes Dames Du Blues, Martin Goyette, Monkeyjunk, Pat Loiselle, Paul Deslauries, Paul Reddick, Les Porn Flakes, Ria Reece, Rick L. Blues, Riot and the Blues Devils, Sean Pinchin, Shawn & the Jive Band, Soulstack, Steve Hill, Steve Marriner & Samantha Martin, Steve Strongman, Sugar Brown, Sussex, Sweet Dixie, The Distillery, Turbo Street Funk, Wang Dang Doodle, and Whiskey Legs.
My two-day Tremblant adventure started with the sensational Ana Popovic who lit the stage with her revving guitar, and increasingly improving vocals and her attractive looks. Popovic was born and raised in Belgrade, Serbia and now resides in Nashville, Tennessee. She and her solid band performed a chunk of tunes from her latest three-disc release appropriately titled "Trilogy." On this recording there are also guest performances by Joe Bonamassa, Robert Randolph, Cody Dickinson of the North Mississippi Allstars, rapper Al Capone, and the most recorded drummer in music Bernard "Pretty" Purdie. No one expected these special guests would be traveling to Tremblant with Ana, but nonetheless Popovic and her quartet sizzled masterfully from beginning to end, leaving the crowd begging for more and more.
There are many reasons for enjoying Tremblant especially during the ten-day Blues Fest run of nonstop music from 12 noon, throughout the day and into the late-night jams the ensue into the wee-hours. For example at 1:30pm I enjoyed watching B3 player and singer Lance Anderson and his Joint Chiefs of Soul perform and delightful set of music. Those of you who are not familiar with Anderson's organ chops should know he's quite the inventive and groove player who also plays the organ bass-pedals with his feet (note picture.) Old-school organ players like Jimmy Smith, Jimmy McGriff, Jack McDuff and others utilized bass-pedals (which act like an extra band-member.) But it's now a rarity that you see modern day organist playing the bass lines with their feet, and Lance was/is an excellent organ/bass-playing perforomist.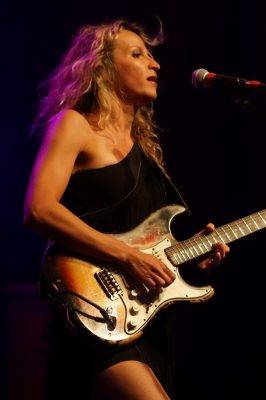 Moving on; at 3:00pm I caught a bit of the UK singer/songwriter Jack Broadbent's set that featured his talented and unique slide guitar playing. At 4:30 I experienced a powerhouse performance by Paul Reddick who ignited the sun-drenched skies and crowd. What a set by this electrifying performer who hails from Canada and has been a fixture on worldwide stages for approximately twenty-five years. This was my first experience to hear Reddick perform and I hope to see many more Paul Reddick concerts in the not too distant future. Reddick and his band were nothing short of hair-raising! Reddick's last tune left time for Pat Loiselle's intricate duo performance (on a different stage.) Loiselle recently released his first recording but has been honing his craft for twenty years. He's also a multi-instrumentalist who is cozy playing diverse string instruments; guitar, banjo, mandolin, dobro, and even a non-string instrument: the accordion too.
Immediately afterwards I caught the pre-performance sound-check for the Boppin Blues Band with Mike Goudreau and knew this would be the Tremblant place to be for their 8:30pm set. So with time to freshen up, a few cocktails and dinner I headed back down to the stage where these Quebec based Boppin Blues Band players displayed their deep knowledge of varied genres. Goudreau is a solid singer and a very diverse and focused guitarist who covered the likes of Stevie Ray Vaughan, War's "Why Can't We Be Friends," Louis Jordan swing tunes, and even the Beatles "Oh Darling" that delighted the audience near the end of their set with a Bluesy rendition of this popular Fab-Four classic. So for me the best was savored for the last set of music I witnessed in Tremblant for 2016. Kudos to Goudreau, his superb three-piece horn section, and the entire well rounded and well-rehearsed band, they thoroughly charmed the audience and kept the crowd on their toes and dancing throughout their memorable performance.
The Festival International du Blues de Tremblant is nestled away in the Laurentian Mountains, approximately ninety-minutes northwest of Montreal in the gorgeous resort town of Mont-Tremblant which looks akin to smaller version of Quebec City with cobblestone streets, old world architecture, and gondola rides for all! Yet for almost two intense weeks; the Blues rule in the cool and fresh mountain air. Southern New York and north Jersey residents will enjoy a break from the heat with the cool mountain breezes of Tremblant. There's plenty of fine dining, first class hotels, and yes, free Blues music. Tremblant (depending on where you live) is about a seven to eight hour drive away from southern regions of New York.
In summary: If you are looking for traditional Blues music and its cousins of original Rhythm & Blues, funk, country, folk and Blues/rock; this Fest offers shows for all musical tastes, with a very deep lineup of more than one-hundred live performances – and remember all of the performances are all free!
Prior to July of 2017 keep checking www.TremblantBlues.com for concert performance updates that the Tremblant Blues Fest Artistic Directors (Mr. Brian Slack, Guy Primeau and Gary Quadros ) will have planned for us next year, which is now less than twelve months away!
For 17 years Bob Putignano has been pivotal with his Sounds of Blue radio show. Hear new Homegrown Sounds of Blue internet radio shows: http://soundsofblue.com/radioshowsmp3.htm
Previously a contributing editor at Blues Revue, Blueswax, and Goldmine magazines, currently the Music Editor for the Yonkers Tribune www.YonkersTribune.com & www.MakingAScene.org Bob was also the 2003 recipient of the "Keeping the Blues Alive" award (given by the Blues Foundation in Memphis) for his achievements in radio broadcasting. Putignano can be contacted at: [email protected]