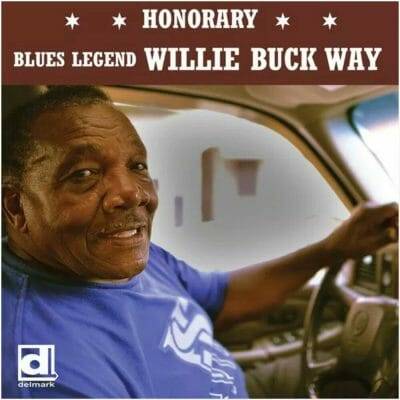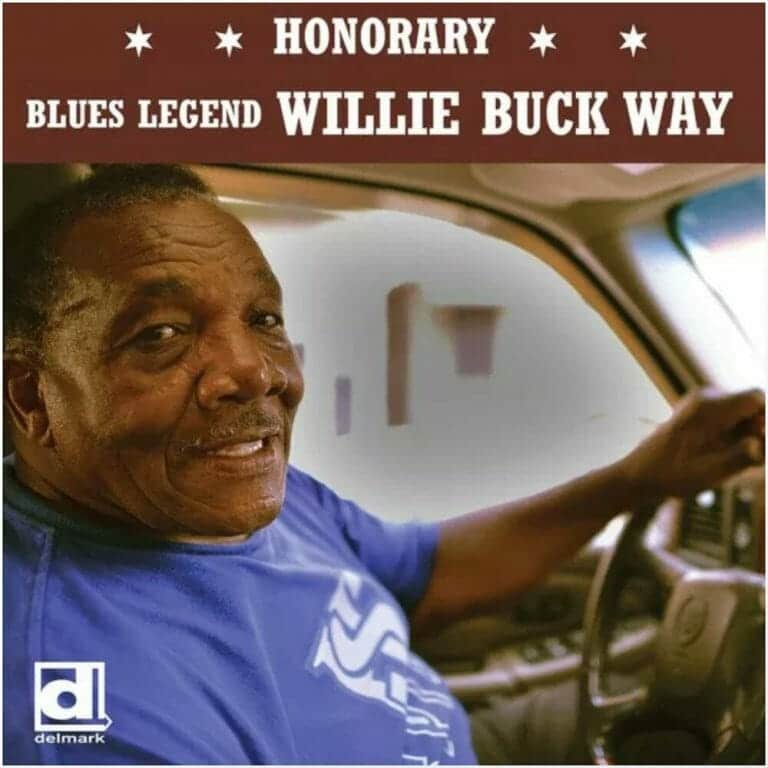 Willie Buck
Willie Buck Way
Delmark Records
William Crawford a.k.a. Willie Buck was born in Houston, Mississippi. Buck relocated to Chicago in 1953. Though still a teenager an older relative snuck him in to see Muddy Waters when Waters was in his prime. The sound of that classic band had such an impact on Buck that he still performs in the style heard that day.
Buck's self-produced debut "It's Alright" was released in 1982. The band on that recording included the Meyers Brothers, bassist Dave Meyers, and his brother lead guitarist Lewis Meyers; and a young rhythm guitarist by the name of John Primer. That album was re-released as "The Life I Love" on Delmark Records in 2010 with five additional live tracks recorded at Robert's 500 Room on Chicago's 63rd St. The following year Buck released the import album "Songs For Muddy, The Madrid Session" with Venezuelan guitarist Jose Luis Pardo and harp player Quique Gomez. Buck's last album 2012's "Cell Phone Man" also on Delmark received accolades "his vocals are sinewy and expressive (he demonstrates a powerful upper range that even a lot of his longtime fans will find surprising)…postwar Chicago blues have long been, and remain, a contemporary music to him, and he delivers them with both urgency and élan."
Buck has been featured in the 2011 comic strip "The Secret History of Chicago Music" by the illustrator Steve Krakow a.k.a. Plastic Crimewave. There is also a Chicago Street "Willie Buck Way" named in his honor. The band includes the now legendary Buck, vocals; Billy Flynn and Thaddeus Krolicki, guitar; Johnny "Fingers" Iguana or Big Spider Beck, piano; Bob Stroger, bass; and Jimmi Mayes, drums. Also featured are harp players Scott Dirks, Big Spider, and Mervyn "Harmonica" Hinds.
The seventeen tracks include twelve Buck originals and five covers. Opening with "You Want Me to Trust You" written and sung in the style learned from Waters, we are pleased that Buck sounds so contemporary; Dirks add some fantastic harp while Iguana tickles the ivories. Other standouts written by Bucks include "(All I'm Doin' is) Thinking of You" with some fantastic lead and rhythm guitar; "I Got You (and You Got Me)", and "The Men Ought to Learn (To Treat the Women Right)" with lead guitarist Krolicki and some more fantastic piano from Iguana. "Twenty-Four Seven" features the lyric "I found me a woman I'd like to have round' me, twenty-four seven" featuring Hinds on harmonica.
Selected covers include two from Waters. "Please Have Mercy" a 1952 single on Chess; and "Look What You've Done" another Chess single released in 1960. Also covered is Leroy Carr's "Blues Before Sunrise" first recorded in 1949 by The Maxim Trio featuring a young Ray Charles on piano; lead guitarist Flynn takes a nice solo. "Crawlin' King Snake" has been recorded by John Lee Hooker and Big Joe Williams and is credited as traditional. "Can't Say Something Good About Me" from Flynn also showcases him on guitar.
Buck is one of the last of the old-school blues singers. On, "Willie Buck Way", Buck reminds us of the legacy left by Waters. This is highly recommended.
Richard Ludmerer