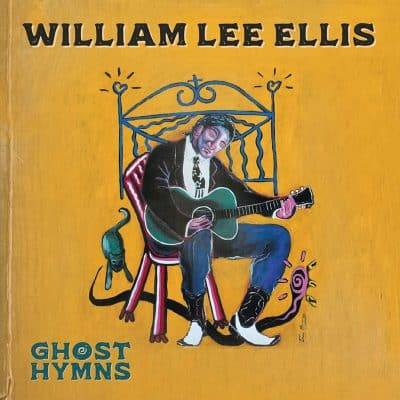 William Lee Ellis
Ghost Hymns
Yellow Dog
Ghost Hymns is the first album in over a decade for versatile roots artist William Lee Ellis, godson of Bill Monroe and son of Blue Grass Boy banjoist and composer Tony Ellis. Currently William Lee Ellis is Associate Professor of Music and Chair of the Fine Arts Department at St. Michael's College in Vermont. Prior to that he studied under noted blues scholar David Evans at the University of Memphis where he earned a PhD in ethnomusicology with a dissertation on the music of Rev. Gary Davis. So, he might know just a few things about roots music. The tradition-bred and talented picker brings us a collection of original compositions and arrangements informed by a global roots vision. Thus, we hear him channel the early pioneers such as Lead Belly and Rev. Gary Davis together with Chinese busking, Ghanian high life, and the Sacred Harp.
Ellis opens alone on his fretless banjo for "Cony Catch the Sun," as raw and primitive as the blues gets. He then gathers colleagues Fraser Speirs (harmonica), Andy Cohen (dolceola), and Steve Feinbloom (bass) for his Piedmont styled "Flood Tale," singing and playing 12-string. "Pearl River Blues" is a country blues guitar duet performed with Mikahely. "All For You," a traditional tune, introduces us to an array of African instruments for this slice of rhythmic joy. Feinbloom remains on bass, joined by Koblavi Dogah (axatse, gankougi, clave & conga), and Fernando Barriga with the leader on vocal and guitar. The sounds keep opening new vistas with the strings (arranged by Matt LaRoca) delivering a lovely instrumental in "Earth and Winding Sheet." Ellis on guitar collaborated with Brooke Quiggins and Ben Lively on violins, Matt LaRoca on viola and John Dunlop on cello. Ellis then presents a Scottish Air with "Call on Me" that features Julie Coffey on teeming harmony and Pete Sutherland on fiddle. In just six songs we've heard music of America's Delta and the Carolinas, Ghania, and Scotland.
In the melodic "Lost Heaven" Ellis is again solo, this time playing guitar and the Chinese Yueqin. "Mumblin'" Word" is a raw, mountain tune complete with fiddle (Neil Rossi), banjo (Rik Palieri), bass and washboard (Larry Nager) and a chorus of Rik, Larry, and Julie. Dogah returns to duet with Ellis on guitar for the instrumental "Goat Island." Ellis then moves to his half spoken, half spoken "River of Need," playing an array of stringed instruments such as Ebows and the African percussion instrument, aslatua. "Belarus" is a nod to his dad who wrote the tune, with pianist Tom Cleary accompanying Ellis' guitar. Like the other instrumentals, the melodies that emerge are quite infectious. Ellis penned the first part of closing medley ('Bury Me in the Sky/I Don't Feel at Home in this World Anymore) with three others, merging it with the latter traditional tune – giving it the feel of a mountain hymn with KeruBo on harmony vocal, Nager on bass, Hannah Assefa on the melancholic fiddle.
Rather than simply step into his father's shoes as a bluegrass player, Ellis honors those traditions but widens the scope immensely to music from Europe and Africa and magically finds cohesion through his gifts for melody and songcraft. The album isn't trying to win you over with dazzling showmanship and rapid-fire picking but instead melds several influences into an engaging sonic tapestry.
Help Support Making a Scene
Your Support helps us pay for our server and allows us to continue to bring you the best coverage for the Indie Artists and the fans that Love them!
Make a one-time donation
Make a monthly donation
Make a yearly donation
Choose an amount
Or enter a custom amount
$
---
Your contribution is appreciated.
Your contribution is appreciated.
Your contribution is appreciated.
Donate
Donate monthly
Donate yearly
You can donate directly through Paypal!
Subscribe to Our Newsletter