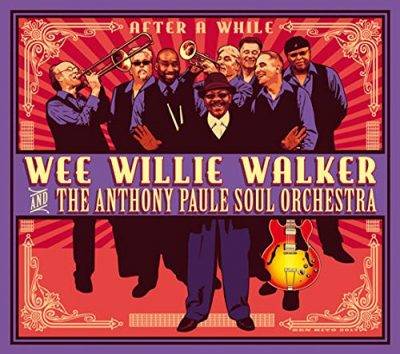 Wee Willie Walker
And The Anthony Paule Soul Orchestra
After A While
Blue Dot Records
Born in Hernando, Mississippi Wee Willie Walker's career spans six decades as he is one of our last real soul singers. He recorded nine sides for the Memphis based Goldwax label in 1968.
More recently between 2004 and 2011 Walker recorded three albums with the Minneapolis based blues band The Butanes which also includes Robb Stupka on drums. In 2015 Walker launched his official comeback album "If Nothing Ever Changes", co-produced by Rick Estrin and Kid Andersen, on the Little Village Foundation imprint. As a result Walker received an invitation to perform at the prestigious Poretta Soul Festival where he first met Anthony Paule. He also received three 2016 Blues Music Award nominations; Soul Blues Album of The Year; Soul Blues Male Artist of The Year, and Album of The Year.
Walker was also invited to perform in Norway. That set was recorded with The Greaseland All-stars and released as 2016's "Live! At The Notodden Blues Festival Norway". In 2017 Walker received two additional BMA nominations.
This studio recording is the new collaboration between Walker and The Anthony Paule Soul Orchestra. It was recorded at Fantasy Studios in Berkeley California by Bruce Kaphan and Robert Kirby. The album is co-produced by Walker, Kaphan, Paule and Christine Vitale.
The band includes Walker, vocals; Paule, guitars; Tony Lufrano, keyboards; Paul Olguin, bass; and Derrick "D'Mar" Martin, drums, percussion and vibes. The horn section is Tom Poole, trumpet; Derek James, trombone; Charles McNeal, tenor sax; and Johnnie Bamont, baritone sax and flute. The horn arrangements are by Lufrano, Poole and Paule. The background vocalists include Loralee Christensen, Larry Batiste, and Glenn Walters.
Walker is a gospel trained singer that can sing harmony or lead. His raspy tenor is soulful and emotive. This is also his debut as a songwriter and he has co-authored three songs. "Hate Takes A Holiday" contains the lyric "love is the answer"; it was written with Geno Williams, Walker's brother in law, and Paule. "If Only" featuring Olguin's bass line; and the sensitive "Cannot Be Denied" with the lyric "Sunday football all alone" were both written with Paule and his wife Christine Vitale.
Vitale also contributes four additional songs. The opener "Second Chance" features Lufrano's B-3, Paule's rhythm guitar and the fabulous horns. The title track "After A While" is my favorite and a possible "Song of The Year" nominee; McNeal takes a great sax solo. "I Don't Want To Know" opens with co-writer Paule on guitar. While "Thanks For The Dance" written with Larry Dunn features a Calypso beat, Paule on an acoustic and the chorus line "let's dance one more".
"I Don't Want To take A Chance" written by George Jackson was recorded by Walker as a demo in 1967. It remained unreleased until 2004 when it surfaced on an import album called The Goldwax Story Vol. 2. Walker wanted to take a chance and re-recorded the song. Walker's vocal is fantastic.
"Romance in The Dark" was written by Lil Green and Big Bill Broonzy. Green was one of our first female blues singers and recorded the song in 1940. It is considered a standard as it's also been recorded by Billie Holiday, Dinah Washington, Nina Simone and others. Walker's vocal, the horn arrangement and Paule's rhythm guitar and solo are just wonderful.
"Look What You've Done To Me" written by Luther Dixon and Larry Harrison was recorded by Lil' Willie John in 1957. This is a great song selection. Drummer Martin, trumpeter Poole, and James on trombone are featured.
"Lovey, Dovey" was originally recorded by Stax labelmates Otis Redding and Carla Thomas. It appears on the 1967 Atco Records album "King & Queen"; session musicians included Steve Cropper, Booker T. Jones, Al Jackson Jr., and The Memphis Horns, Wayne Jackson, and Andrew Love. Walker is joined on this duet by guest vocalist Terrie Odabi. This version is equal to the original.
"Your Good Thing (Is About To End)" was written by Isaac Hayes and David Porter and sung by Lou Rawls in 1969. It's also been recorded by O.V. Wright, Etta James and others. "I don't need you to beg me, cause somebody else will".
On the instrumental "The Willie Walk" members of the band get a chance to solo. Especially nice are the horns of James, Poole, and Bamont; Lufrano on organ and the rhythm section. This is a classic performance.
Each and every one involved in this recording does a superlative job. The vocal talent of Walker is wonderfully framed. The album is sensitive, soulful and dramatic. This may be the Album of The Year.
Richard Ludmerer
[amazon_link asins='B073SWPC1G,B01MRWMYBQ,B00ZAR9B4E,B00ZC4ZOT6,B01L5KVM8W,B01L5KVHZ0,B014I38218′ template='ProductCarousel' store='maasc-20′ marketplace='US' link_id='498dff8a-9a60-11e7-8b5e-3d4180b1262f']