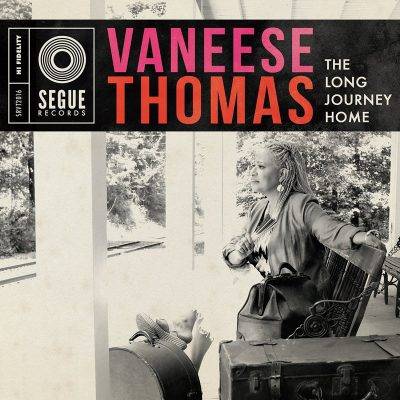 Vaneese Thomas
The Long Journey Home
Segue Records
Memphis born Vaneese Thomas is the daughter of Rufus Thomas ("Walking The Dog") and the sister of Carla Thomas ("Gee Whiz"). She released her first album "Vaneese" in 1987. Her last album "Blues for My Father" garnered Thomas three Blues Music Award nominations including Female Soul Blues Artist of The Year (in both 2015 and 2016).
This new album showcases Thomas's talents as a songwriter, producer and bandleader. She has written or co-written eleven of the twelve songs and has assembled a crackerjack ensemble. The core band includes Paul Mariconda, piano and organ; Sergio Cocchi, organ; Al Orlo, guitar; Paul Adamy, bass; Joe Bonadio, drums; and Wayne Warnecke, percussion.
"Sweet Talk Me" was written with Carolyn Mitchell. Grounded by the superb rhythm section of Adamy and Bonadio Thomas' vocal has that classic Stax Records sound. The background singers include Lisa Fischer and Erin Pellnat.
"I used to be lonely but now I'm Lonely No More". This is another good tune this time dominated by Mariconda's barrelhouse piano.
"Saturday Night on The River" and "Mystified" are two of my favorites and they include the horn section of Cliff Lyons, Ed Palermo, and Barbara Cifelli, saxophones; and Brian Davis, trumpet. The former should receive a crazy amount of airplay as Lyons takes a fabulous solo. On the latter Thomas's vocal is sensational.
"Country Funk" written with her partner Warnecke features Peter Calo, Dobro and banjo; and Katy Jacoby on violin. This is another outstanding track.
"The More Things Change" co-authored with guitarist Orlo, also features Mariconda, piano; and Cocchi, organ.
"The Prince of Fools" is another Memphis styled song again featuring the horns of Palermo and Davis. The celebratory "I Got A Man in Tennessee" is another tune co-written with Warnecke.
On "Rockin Away The Blues" Thomas' vocal is a joy. The fabulous production is driven by Adamy on bass, Calo's Dobro and further cemented by Cocchi's fine organ playing.
"Revelation" features Rob Paparozzi on harmonica. "Mean World" features Thomas playing piano; vocally we once again get to hear her incredible range.
The album closes with an acoustic rendition of Fleetwood Mac's "The Chain" featuring Jacoby on violin and Tash Neal on Dobro.
Thomas has outdone herself as this just might be the album of the year. She is sensational.
Richard Ludmerer