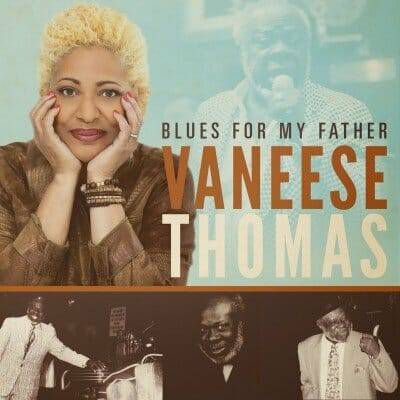 Vaneese Thomas
Blues For My Father
Segue Records
Vaneese Thomas is as close to Blues royalty as you can get. Thomas grew up in Memphis the daughter of Rufus Thomas, a rhythm and blues singer, whose career spanned a half century. Rufus Thomas recorded for both Sun Records and Stax Records; his 1963 hit "Walking The Dog" is still aired on radio stations everywhere. Vaneese's elder sister Carla Thomas is also a Stax recording artist and the "Queen of Memphis Soul". In 1969 Carla recorded "When Something is Wrong With My Baby" with Otis Redding. Her brother Marvell Thomas is a keyboardist and producer who also did work for Stax Records. Vaneese began by singing back up on several Stax sessions.
So Vaneese grew up surrounded by music. After college Vaneese moved to New York City. She has since sung with Luciano Pavarotti, Aretha Franklin, Sting, Stevie Wonder, Michael Jackson, Celine Dion, and Eric Clapton among others. She is also a songwriter having written songs for Patti Austin, Melba Moore, and Diana Ross. As a voice over actress she has worked on both film and television soundtracks.
Thomas released her first album "Vaneese" in 1987. Included was the R'n B single "Let's Talk It Over". Her last recording was 2009's "Soul Sister, Vol. 1: A Tribute to The Women of Soul"; on it she pays tribute to those singers she admires. This newest recording, her fifth, was released this past June and like the last one it is co-produced by Thomas and her husband percussionist/guitarist Wayne Warnecke.
Some of the musicians who lend their talents to this project are drummers Buddy Williams, Shawn Pelton and Perry Gartner; bassists Paul Adamy and Will Lee; keyboardists Robbie Kandor, Marvell Thomas, and Paul Shaffer; guitarists Tash Neal, Jeff Mironov and Rob Mathes; and horn players Tim Ouimette, Bill Harris, Kirk Whalum, Ken Jackson and Jim Spake. The horn arrangements are by Ouimette.
Thomas has authored ten new songs. The album opens with the country blues of "Southern Central Blues" and closes with "Blue Ridge Blues" where she is accompanied by just a guitar. In between are two shuffles "10X The Man You Are" and "Corner of Heartache and Pain"; the later featuring the fabulous horn section. Vaneese gets funky on "Wrap Your Arms Around Me" and on "Love 'Em and Leave 'Em Behind". My favorites include "When My Baby Gets Home" co-written with Carolyn Mitchell; "Southern Girl" and "Lonely Me".
"Wrong Turn" is a fabulous duet with her sister Carla. They harmonize beautifully on the chorus. Thomas recently backed up John Fogarty in concert and she includes his "The Old Man Down The Road". The centerpiece of this recording is a magical duet with her father Rufus on his "Can't Ever Let You Go" originally recorded in 1962. The original voice track is meticulously re-worked and the results are marvelous.
Thomas' performance on this recording is wonderful. This is highly recommended listening.
Richard Ludmerer