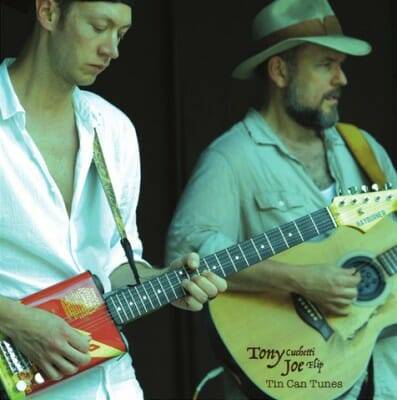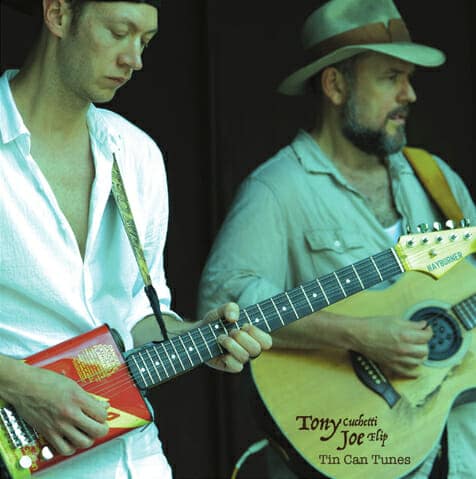 Tony And Joe
Tin Can Tunes
Tony Cochetti and Joe Flip are popular bluesmen from the Midwest. They have recently released a new album, Tin Can Tunes, which is doing well on blues radio charts already. The name comes from the unique guitars Joe makes and uses on the album. They are created from antique gas cans and are called "Hayburner" guitars! The one Joe uses certainly gives "acoustic" a new sound!Meanwhile, Joe handles vocals and traditional acoustic in a way that totally balances the whole ensemble of men and instruments
The intro to "Mess Around" gives us our first chance to immerse ourselves in the rich, full tone of Joe's amazing guitar. Then Tony comes in with the perfect vocal to match that guitar, as though they were planned for each other. Just listen, and you'll see what I mean. Next comes the only cover besides "Amazing Grace," Johnny Cash's "Big River." Cochetti simply tears this one up, catching just the right intonations. I have loved this song my whole life, and this version is extremely satisfying to my soul.
"lj," the third track, is a total change of tempo and mood. It is cool, with awesome guitar work underlining the somewhat eerie social commentary of the lyrics. "Six Feet Underground" is a bluesy, jazzy ode to a guitar. "Down Home Girl" is an unusual ballad in which the girl smells like collard greens and tastes like pork and beans and still sounds awfully sultry when Tony sings it.
"Do Your Thing" is a fun little bouncy love song, while "Tommy C" is a heartfelt lament for a dear friend. "Lovin' Biscuits" is a fast, fun song that will open up your eyes and which effectively uses the regular acoustic guitar and that Hayburner, which play together so very well.
Indiana Star joins in on harmonica for the wonderful instrumental version of Amazing Grace," which just makes you wish it was longer.
This album is pure listening pleasure. Give it a listen just to hear that amazing Hayburner and then be thrilled with the way everything fits together. Highly recommended!