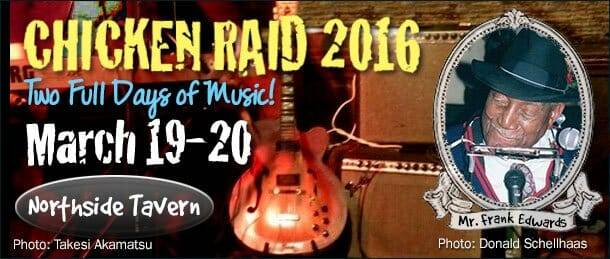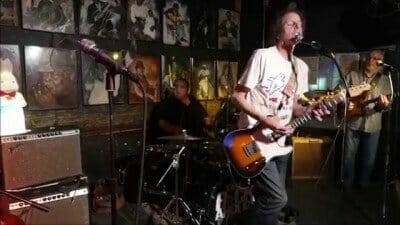 Chicken Raid happens once a year in Atlanta, at Northside Tavern, and it is one of the warmest and bets blues festivals around! What began as a birthday party for beloved Atlanta blues man Frank Edwards in 1990, and named after one of his songs, evolved into a tribute and fundraiser after his death. It continues to provide some funds for Edwards' survivors and to keep his house in the family and over the years has benefited other causes as well. Most of the musicians play for free, but the older musicians, like Eddie Tigner, Albert White Beverly "Guitar" Watkins and others are paid and that in itself is a benefit for these legendary musicians.
This year, the Raid will also feature a "Celebration of Life" for musician Tommy Brown, who died March 12 and is deeply mourned by Atlanta blues fans.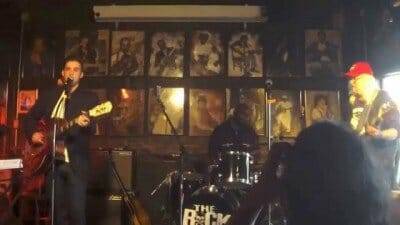 Over two days, there will be music both indoors and outdoors, including the above mentioned legends plus Mudcat (Danny Dudeck, who is intricately involved with the festival in every aspect), Taj Mahal protege Jontavious Willis, Essie Mae Brooks, Robert Lee Coleman, The Wayward Souls, The Rockaholics, Lola. and way too many more to mention. Over 90 musicians will be involved in the event!
Matt Harper of Fat Matt's will provide barbecue for the event so get your taste buds ready!
Chicken Raid is an event you don't want to miss, whether you go one day or both! Tickets for the entire show, which starts at 2 each day and ends very late, are $15 on Saturday and $10 on Sunday.
See you there!