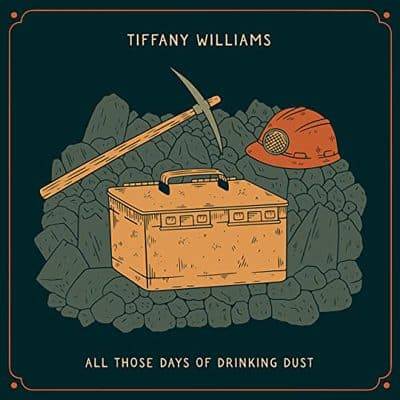 Tiffany Williams
All Those Days of Drinking Dust
Self-released
A gifted new singer-songwriter, Tiffany Williams, has arrived with her distinctive literate songs and a head turning vocal performance. All of Those Days of Drinking Dust is often a hypnotic listen with spare accompaniment, varied tempos, and aching vocals that captivate the listener. Williams offers a completely different sound than her Appalachian upbringing might suggest, to the point of being daring and stunning in places. As the title implies, Williams is the daughter, granddaughter, and great-granddaughter of Eastern Kentucky coalminers, addressing her background in a few of these songs. Williams loves anything to do with words. She's an award-winning fiction writer and former high school English teacher. She also studied Appalachian speech and sociolinguistics and worked as a dialect coach on the set of The Evening Hour, which debuted at Sundance in 2020. Originally Williams came to Nashville to write songs for other people and was too embarrassed and not confident enough in her singing to take the stage. She eventually found the spark and now embraces all the things she loves – words, stories, and music. And her vocals are clearly a major asset in her arsenal.
After releasing two EPs, this, her first full-length, was produced by Duane Lundy (Ringo Starr, Jim James, Sturgill Simpson) with much of it recorded during the pandemic. According to Williams, the album was done for a long time before she released it. She used both Kentucky musicians in the studio and others remotely. Tom Hnatow adds bass, acoustic guitar, electric guitar, and steel. Lundy plays keys as does Justin Craig who also plays guitars. Ellie Miller contributes on fiddle, Tripp Bratton on percussion, and Taylor Shuck on banjo. Fellow Kentuckian and noted New York Times best-selling novelist Silas House duets with her on "When I Come Back Around."
She begins the opening title track with the lyric, "I am a coal miner's daughter" but the ethereal backdrop and the quiet, calm tone of the song have nothing to do with Loretta Lynn. Although Williams is doubtlessly proud of her hard-working family and descendants, she states that she didn't have to endure the back-breaking labor that they did, purging that aspect and creating her own story instead. So, shunning the traditional Appalachian accompaniment, we hear an understated mix of piano, electric guitar and subtle percussion that frame her immaculate vocals. The banjo and fiddles do arrive for "Know Your Worth," one of the few up-tempo tracks that follows the standout ballad, "Harder Heart" where the narrator wishes she weren't so forgiving.
The second half of the album deals mostly with longing, kicked off by the image galore "The Sea" where Ben Sollee's cello stirs in an eerie, haunting tone for Williams' undulating voice ebbing and flowing like the tides. "Wanted It To Be" just grabs at the heartstrings as she sings "Don't sing that love song. It wasn't about me though I wanted it to be." Longing is also at the heart of the musically upbeat duet with House on "When I Come Back Around," about two who love each other but need time apart to process things and perhaps go separate ways. The lively "Don't Give a Damn" seems to be about a woman who could care less, with nothing in her purse except "an EBT card and two full packs of Winston Lights."
"No Bottom" returns to the sonic territory of "The Sea" with Sollee and Miller prominent as a poignant short story unfolds about someone who should have taken better care of itself than tending to so many others – "there's no bottom to anything," This is an album that just seems to get better with each track, Williams capping it with one her strongest vocals in "The Waiting," yet another in her theme of longing as she pours out, "I love you like the mountains love the warm sunrise/I love you/Is that alright?"
Everything about this effort is more than just "alright" from the lyrics, accompaniment, vocals and superb production values. This is easily one of the year's most pleasant surprises.
Help Support Making a Scene
Your Support helps us pay for our server and allows us to continue to bring you the best coverage for the Indie Artists and the fans that Love them!
Make a one-time donation
Make a monthly donation
Make a yearly donation
Choose an amount
Or enter a custom amount
$
---
Your contribution is appreciated.
Your contribution is appreciated.
Your contribution is appreciated.
Donate
Donate monthly
Donate yearly
Subscribe to Our Newsletter