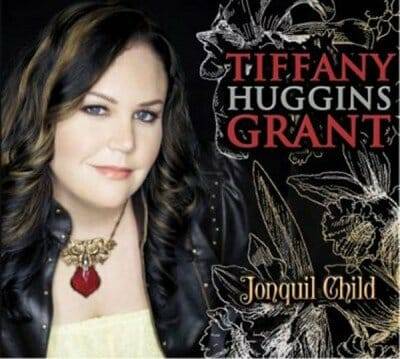 Tiffany Huggins Grant has an amazing voice, perfect for Americana with its mix of "crystal and honey" as the press release accurately describes it.
Grant grew up in Smyrna, GA, thus explaining the title, Jonquil Child. Smyrna is known as the "Jonquil City" due to the springtime proliferation of the bright yellow flowers. The song tells the story of her journey from home to Nashville. At 16, she was a finalist in the Georgie Music Association's songwriting competition and by 17 she attended the NashCamp songwriting camp and began appearing in Nashville.
But her move to Nashville at such a young age made her vulernable to alcohol addiction and depression, and she had to fight her way through that to reach the point where she could record this album.
And the album reflects honestly all her struggles. The songs deal directly with the darkness that addiction and mental issues bring. The sound is primarily country for most of the 12 numbers, with unexpected dips into soul and even classic rock in the songs "Fighter" and "If You Only Knew."
There are 12 songs on the CD and 10 of them are original numbers. Grant is backed by Mark Robinson (acoustic/electric guitars), Paul Griffith (drums), Thomas Grant (bass), Jen Gunderman (keyboards/accordion), John Heinrich (steel guitar) and Vickie Carrico & Michael Black (background vocals). Grant also plays acoustic guitar, and Mark Robinson produced it as well.
Songs like "When It Rains" and Pamela Jackson's honky-tonk "One Too Many" deal openly with alcohol and the regret and pain addiction bring. "Out My Window" is a poignant exploration of isolation enhanced by Robinson's six-string and Heinrich's steel guitar. Leaving that theme for a while, "Love Letters" is a touching tale of romance inspired by Grant's discovery of love letters in her grandparents' effects. The aching steel is the perfect introduction and frame for this classic country number which reminds me of Patsy Cline. Grant then proves she can handle soul with the ballad, "Ain't Nobody Leaves," which was influenced by Grant's respect for the great Otis Redding. "You're Not Alone" offers the acknowledgement that overcoming addiction and depression are hard, but there is help and hope.
Grant is a bright new voice in Americana, and her songs are brave and honest, dark yet ultimately hopeful. Give this CD a listen. You will be impressed.
Tiffany Huggins Grant