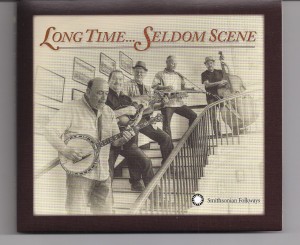 The Seldom Scene
Long Time….Seldom Scene
Smithsonian Folkways Records
John Duffey and Tom Gray were both members of The Country Gentleman, one of the best bluegrass bands of their day. Gray left in 1964 while Duffey stayed for five more years.
In 1971 Duffey, mandolin and lead tenor vocals, formed The Seldom Scene along with Gray, bass; John Starling, guitar; Ben Eldridge, banjo, and Mike Auldridge, dobro. The Seldom Scene soon became one of the genres best. In 1973 they released their second recording "Act 2". While still respecting tradition they included tunes from contemporary songwriters Norman Blake, John Prine, Gene Clark, and Ricky Nelson among others. They weren't afraid to experiment and thus their popularity soared. Although they continued to record they seldom toured. Duffey's untimely passing occurred in 1996.
The Seldom Scene forged on and now four decades later they consist of founding member Ben Eldridge, banjo; Dudley Connell, guitar and vocals (from The Johnson Mountain Boys); Lou Reid, mandolin; Fred Travers, dobro and Ronnie Simkins, bass. This new album is a family re-union as they are joined by original members Gray and Starling. Guest musicians include Rickie Simkins, Chris Eldridge and Emmylou Harris.
"Wait a Minute" was written by Herb Pedersen who still performs this song whenever he appears with The Desert Rose Band. Connell's lead vocal is clear while Reid, Travers and Starling sing harmony on the chorus. Travers' dobro adds just the right touch to this sensitive version. "California Cottonfields" was originally covered by Merle Haggard way back in 1971.
Emmylou Harris joins in on the second verse of "Hickory Wind" written by Gram Parsons and recorded by The Bryds on 1968's "Sweetheart of the Rodeo". Eldridge's banjo, Reid's mandolin, and Travers' dobro
are excellent as they accompany the beautiful harmony. "What Am I Doing Hanging Round" is from Michael Martin Murphy. "Big Train" comes from John Fogarty.
"Paradise" was included on "Act 2". The band made this John Prine song a bluegrass standard and they reprise it here. "It's All Over Now Baby Blue" is classic Bob Dylan. Starling contributes "Mean Mother Blues". The beautiful "Body and Soul" and "Little Georgia Rose" were both first recorded by Bill Monroe. These and six other tunes are included.
This is the real deal and a welcome treat brought to us by the folks at Smithsonian Folkways. Better get a copy while they last.
Richard Ludmerer