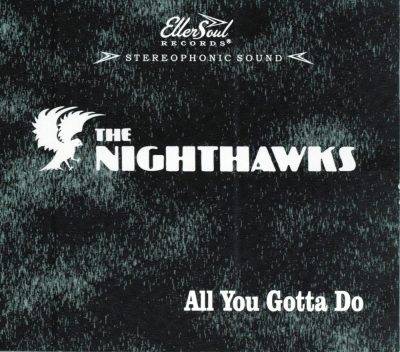 The Nighthawks
All You Gotta Do
Eller Soul Records
The Nighthawks recorded their first album "Rock n' Roll" in 1974. It was all covers but in 1977 they followed with "Sidepocket Shot" a mostly original recording. Since then they have always mixed covers with their own songs. My favorite Nighthawks albums include 1986's "Hard Living" with Jimmy Thackery and 1996's "Pain and Paradise". My own interest in them was revived again when they recorded 2009's "American Landscape".
In 2014 The Nighthawks signed with their current label, Eller Soul Records, and released "444". In 2015 they followed up with "Back Porch Party". "All You Gotta Do" is their third record for the label and thirty-first album overall.
The Nighthawks have been led for the last forty-three years by harp player Mark Wenner. Since 2004 he has been joined by Paul Bell, guitar and Johnny Castle, bass. Drummer Mark Stutso has been with them for eight years.
The album opens with "That's All You Gotta Do" written by Jerry Reed and recorded by Brenda Lee in 1960. Covers like this one are the primary reason why The Nighthawks are so loved as they still mix their blues with rock n' roll. Wenner sings lead with close harmony from both Castle and Stutso.
Stutso sings lead on Levon Helm's "When I Go Away". This gospel influenced song first appeared on Helm's 2009 album "Electric Dirt". It was also the closing tune on Helm's documentary "I Ain't in It for My Health". Stutso's voice has the clarity to accentuate the emotions within.
Wenner sings on "Baby, I Want To Be Loved". Written by Willie Dixon the song was recorded by Muddy Waters and appears on his 1977 Chess album "Hard Again". In 1980 it was recorded by The Rolling Stones. Wenner takes a terrific harp solo.
Randy Newman's "Let's Burn Down The Cornfield" was recorded on his 1970 album "12 Songs". Bell is featured on slide guitar.
Other chestnuts include Wenner's harp and vocal on Sonny Boy Williamson's "99" first recorded by Williamson in 1959; Jesse Winchester's "Isn't That So" from his 1972 album "Third Down, 110 To Go"; and R.L. Burnside's instrumental "Snake Drive" with some more fine slide guitar from Bell.
Castle sings lead on two songs written by him; on "Another Day" and on "Dirty Water" a rockin' stones like tribute to the band's hometown of Washington, D.C.
Stutso also sings on two originals he contributed; "Voodoo Doll" and "Three Times Your Fool" co-authored with Norman Nardini.
Wenner adapted the children's song "Frere Jacques" and it has become "Blues For Brother John". Bells jazzy guitar and Wenner's harp are fabulous.
As a band The Nighthawks are once again peaking as this is their finest album since "American Landscape". This new offering from them is highly recommended.
Richard Ludmerer
[amazon_link asins='B071JB2N26,B06WGT3DHV,B000S9DU5A' template='ProductCarousel' store='maasc-20′ marketplace='US' link_id='aef71a42-7891-11e7-a0e1-338d9527d813′]