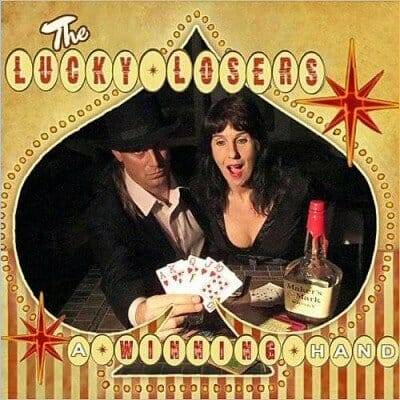 The Lucky Losers
A Winning Hand
West Tone Records
The Lucky Losers are vocalists Cathy Lemons and Phil Berkowitz.
Lemons is from the Dallas area where she used to run with Stevie Ray Vaughan and Anson Funderburgh. In 1987 Lemons toured with John Lee Hooker. She has lived and performed in the San Francisco Bay area for the last twenty-five years. Lemons' has three studio recordings including 2010's "Lemonace" and 2013's well received "Black Crow".
Berkowitz, who also plays harp, has two previous recordings; 2005's "Louis Blues: The Music of Louis Jordan" and 2009's "All Night Party". He has toured or performed with Billy Branch, Sean Carney, Danny Caron, and Duke Robillard.
This is an album of duets and the duo feeds off each other and harmonize well together. The "losers" influences include blues, Stax styled soul, New Orleans funk and jazz. The album is produced by Kid Anderson at his Greaseland Studios. The band includes guitarists Marvin Greene and/or Anderson; keyboardists Chris Burns or Kevin Zuffi; bassist Steve Hazelwood or Steve Evans; and Robi Bean, drums.
Lemons and Berkowitz contribute three songs each. Lemons' songs include the fabulous title track "A Winning Hand". Steve Freund guests on lead guitar. The jazzy "Suicide By Love" features Burns, piano and Berkowitz, harp.
Berkowitz's songs are co-written with Danny Caron, who was the musical director for Charles Brown, and they include the opening track "Change in The Weather" and "Long Hard Road". These two feature horn arrangements and a section led by saxophonist Michael Peloquin.
Selected covers include a fabulous version of "I Take What I Want" written by Isaac Hayes, David Porter, and Mabon "Teenie" Hodges and recorded by Sam and Dave in 1966. Berkowitz includes a nice harp solo and it works surprisingly well. An equally excellent rendition of "What Have I Done" written by James A. Lane a.k.a. Jimmy Rogers follows. Featured is the lyric "you got me cuckoo baby, cuckoo in my head." These two feature Greene's excellent rhythm guitar work.
The Jules Stein/Clyde Otis "Baby You Got What It Takes" is reprised here. It was first recorded as a duet by Brook Benton and Dinah Washington. Included also are Charles Brown's "Cry No More"; Allen Toussaint's "What is Success" and Bob Dylan's "What Was It You Wanted".
This album is full of great performances. It's a winner; no losers here. This is highly enjoyable listening.
Richard Ludmerer