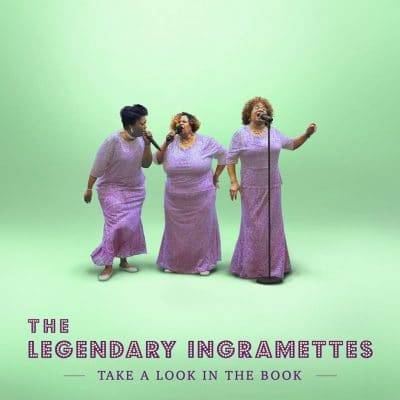 The Legendary Ingramettes
Take a Look at the Book
Virginia Folklife Program
Some of us first heard of the gospel group The Legendary Ingramettes when they appeared on Sherman Holmes' 2017 The Richmond Sessions. Yet this group has been with us for more than six decades now, held together through generations of determined African – American women. The quintet was founded by Maggie Ingram (who passed away in 2015) in order to keep her family together and has been continues by her daughter Almeta Ingram-Miller to retain the family legacy. Inspired by male gospel groups of the '40s and the '50s, this a group of powerful female voices and harmonies. Take a Look at the Book is their first recording with Almeta as leader.
These Ingramettes are a trio of Almeta, Cheryl Marcia Yancey and Carrie Ann Jackson supported by Ramona Raines and Valerie Stewart on vocals with a backing instrumental quartet of Harvey Stuart Hamlin (keys), Calvin "Kool Aid" Curry (bass), Randall D. Cort (drums) and Jared Pool (guitar).
Like the Holmes album this was produced by state folklorist Jon Lohman as part of the Virginia Folklife Program at Virginia Humanities. Recorded in just three days, most songs were done in one take to replicate the group's incendiary live roof raising performances. It well may be the most stirring, rousing pure gospel album you'll hear this year or any year for that matter.
This is the music that was around the Ingramettes as children and although most of the early Civil Rights struggles are faint early memories for most of them, the album can't help but look back as Maggie's spirit is all over it. "The legacy my mother left us was an incredible and inherent faith that wasn't complacent. Who could have imagined what we've gone on to do with this music?" Along with family favorites and classics like "When Jesus Comes," "Rock of Ages" and the opening "The Family Prayer," Almeta brought in new songs too.
Almeta first heard the haunting "I've Endured" written by Ola Belle Reed when meeting the Whitetop Mountain Band in Galax, VA. She comments, "The story of that song so parallels my mom's life" as she takes the tune to a nearly epic eight-minute height. A more familiar song in their repertoire is Bill Withers' "Grandma's Hands," where Almeta recalls the image of her grandmother on the porch of her rural shack in Georgia (before the family moved to VA) with a shotgun on her lap. She wrote a final verse to the song about her grandmother picking cotton until her fingers bled.
Almeta sums it up, "When I sing, I'm singing out of the experience that I have. Out of my total experience, I still see that young girl sitting in the car, and Mama's about to pull into a service station in South Carolina. Knowing at eight years old what "white only" means. When I sing, it's from that place. That hasn't been the experience with all of my group members because they're younger than I am. They are the generations that have joined me on this incredible journey. They haven't experience what I've experienced. That's the legacy that Mama has left for us. Never forget."
This should rise to the top of the list for Best Traditional Gospel Album at the Grammys. Anything less, would be criminally unfair.