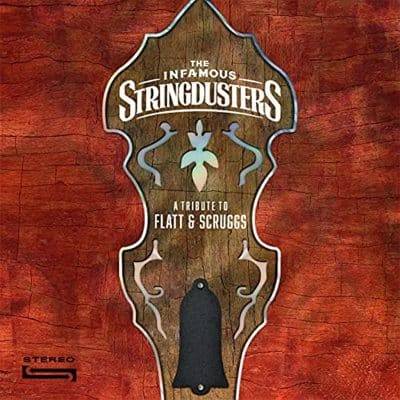 The Infamous Stringdusters
A Tribute to Flatt & Scruggs
Americana Vibez Records
Here they go again, those Infamous (and incredible) Stringdusters, demonstrating that to rock as creatively and successfully as they do in the progressive bluegrass realm, frequent trips back to the music's Appalachian sources to really know the stuff, are an obligation. Besides enormous talent, of course. Three years ago, the 'Dusters dug into Kentucky's 'grass roots and turned up shimmering gems on A Tribute to Bill Monroe. Now, bracketing their acclaimed original studio album Toward the Fray, they offer A Tribute to Flatt & Scruggs, honoring the music of the Tennessee, and North Carolina pioneers that came together in the mid-1940s as members of Monroe's band.
When I was a boy in the early 1960s, I couldn't get enough of The Beverly Hillbillies. I vividly remember the absurdity of the lovable characters and was always fascinated by the two sharp dressed men that showed up at the craziest times playing guitar and banjo. Lester Flatt & Earl Scruggs portrayed themselves often on that legendary TV show, besides playing and singing its famous theme song. Flatt & Scruggs were as virtuosic to me in that setting as Count Basie, Louis Armstrong, or the Beatles were, on Ed Sullivan. They made a lasting impression.
The Infamous Stringdusters rightfully illuminate Flatt & Scruggs' legacy beyond old comedy skits and an iconic ditty. Through a modern, telescopic lens, they present beautiful songs and catchy, timeless melodies. Three of the six tunes were penned by the honorees; the others are directly associated with them. Guitarist Andy Falco, bassist Travis Book, fiddler Jeremy Garrett, dobroist Andy Hall, and banjoist Chris Pandolfi all sing and play in harmony to the high standards Lester Flatt and Earl Scruggs set, but also to their own incredible heights. Seventeen years growing as tight as a banjo head together will do that.
A quick saw of fiddle kicks "I'd Rather Be Alone" into gear, the music chopping away resolutely, the singers singing virtuously of being apart from a loved one. You can picture the suits and bolar ties, even though that's far from the case. By their nimble fingers, the five classic bluegrass instruments ring out, individual paths clearly lit, but together creating a deep in the woods, mountaintop symphony. The pace quickens for "Will You Be Lonesome Too," the players locked, heated, and astounding. Feelings of despair? Well listen up right there. These wonderful voices sing it all away into the wind. "Cabin on the Hill" then finds them in church, their voices a choir, the song a reprieve amid the otherwise blazing program.
Radio announcer George Hay, who founded the Grand Ole Opry nearly 100 years ago, was known to advise performers in his studio to "keep it close to the ground," meaning that his listeners sought to hear music that's down to earth. A Tribute to Flatt & Scruggs offers one of the best ways for those that love music today to revel in the same.
Tom Clarke for MAS